A Lil' About Me
My least favorite thing to talk about has always been myself. That's probably why I suck at small talk when people ask me about myself. But here we go anyway…
HEY!
My name is Tammy… I wish it was something funner, cuter, or more interesting, or even spelled differently, but thems the cards I was dealt. ?

I ❤ 80's hairbands.
Bon Jovi
Poison
Motley Crue
Aerosmith (currently listening to "Hole in my Soul" right now)?
Kiss
Tesla
Boy Bands
Luke Bryan
And I will play them all at the jukebox at the local watering hole if I have had a few to drink. And throw in a lil Mariah Cary "We Belong Together" for good measure. As you can see, when it comes to music, I'm all over the board.
I also love "Stranger Things" on Netflix. Their sets with the old malls and all things 80's evokes so many memories! (Impatiently waiting for season 4.)
Reality TV Shows (I can't believe I am admitting this) are a weakness. It started with "The Real World" on MTV. I've been hooked ever since. On to Road Rules, then The Challenges until they got too violent. Now I watch more of the Real Housewives on Bravo. There is still some occasional table flipping and hair pulling, but rarely any blood shed. ?
I was born in America's Hometown, Hannibal MO. My parents divorced when I was in 6th grade so we moved to Nauvoo, IL for about 4 months. From Nauvoo to Carthage, IL to Bowen, IL somewhere during 7th grade. I absolutely LOVED my life while we were in Bowen. We moved again middle of my Sophomore year, back to Carthage. While only 15 miles away, it's the end of the world when you are 15.
"Storms make trees take deeper roots."
– Dolly Parton

Some relationships lasted and last still today, some were off and on and should have ended sooner, some added to my trust issues. But without these life experiences I wouldn't be who I am today or with my soulmate.
Thank God for unanswered prayers.
I met my husband in high school but did not start dating until I was 20 and he was 21. We started dating September 23, 1991, he asked me to move in October 23, and asked me to marry him December 23rd. We had our wedding/reception planned for May 23rd, 1992. When we realized how much others were influencing our special day (and not in a positive way) and the costs adding up (we had no money), we decided to go to the courthouse and get hitched. We just wanted to be married and didn't care about all the hoopla and did not feel it was worth going into debt for. So to the courthouse we went and said our "I do's". We were in love and just wanted to be marred so April 17, Good Friday that year, I became a Mrs.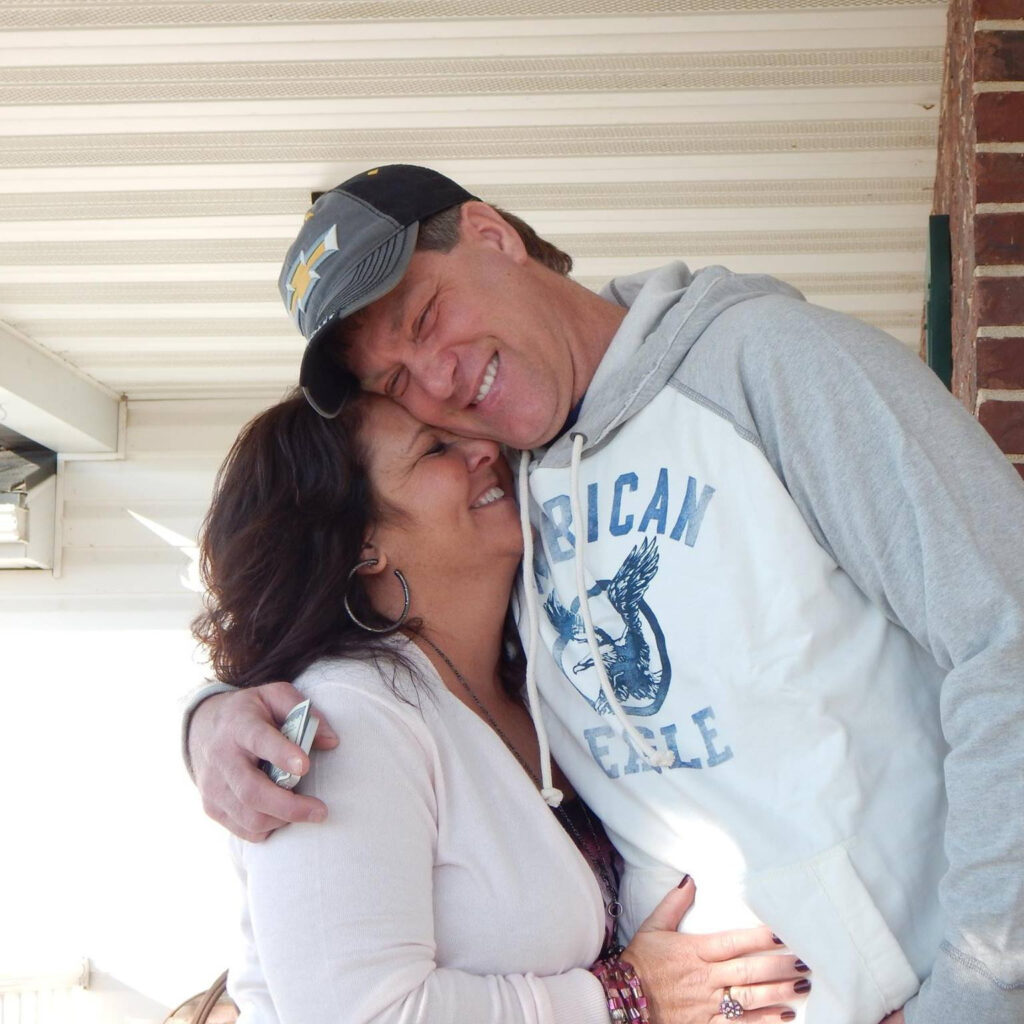 My husband is a farmer, through and through. I did not grow up on a farm, but I think I have adapted pretty well. Except for the whole timing thing. Like "Come help me for 5 minutes" leads to a 2 hour minimum. And "I'll be right home." is no less than 30 minutes later. And everything being subject to change if we are calving, if it is raining, if the sun is shining, if we are planting, if we are harvesting. You get the idea. I used to be a "planner" as much as possible. Farming knocked that right out of me!
We had hogs when we got together. I used to help catch the babies and hold them for processing, etc. They were cute and all, but they were not profitable for us back then. Then we moved on to cattle. They can be pretty protective when they have a newborn, to say the least. But I do love working with them. While owning my store (more accurately it owned me) that is one of the many things I missed. I love to help sort and check on them and look for new babies, etc.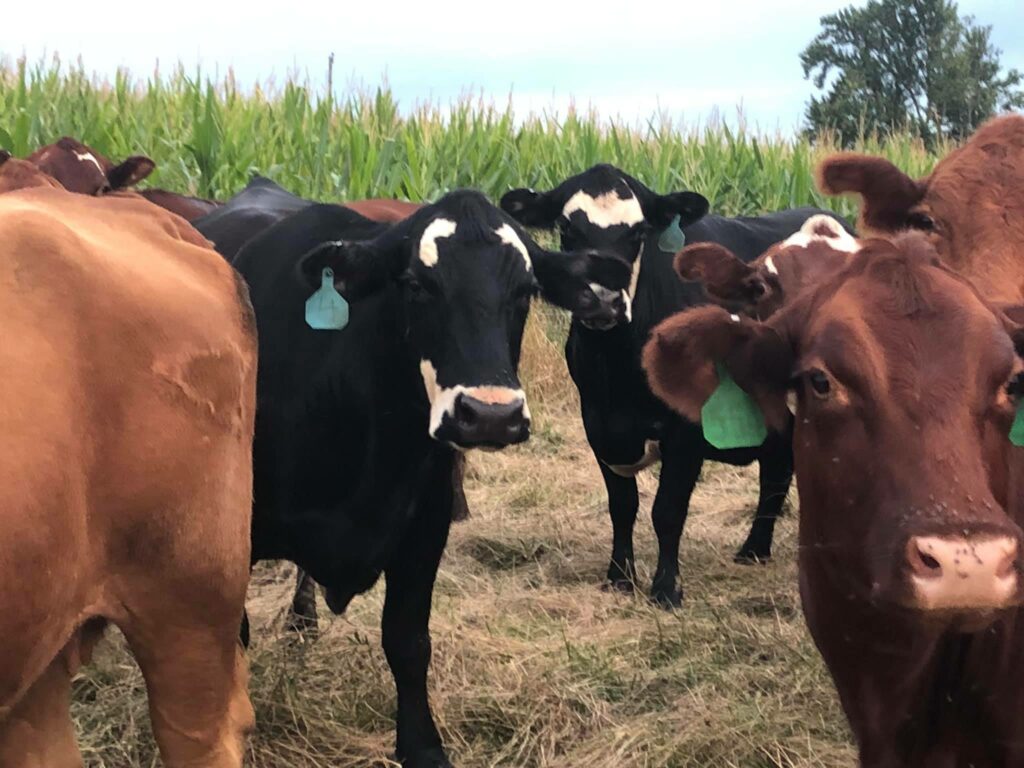 We also have row crops. Corn, beans, sometimes wheat, alfalfa, cover crop etc. My favorite thing is to combine corn during harvest. It takes all 3 of us (Hubs, son, and me) if we want to unload on the go. I can get a lot of good "think time" done in there (when my husband isn't constantly on the 2-way radio asking how much it's making, what the moisture is testing, how fast I'm going…). When it works out, I also do some field work. I would rather not disk chisel just because it is a smaller implement and seems to take forever to get a field done, lol. I would much rather field cultivate and know that I'm getting somewhere.
My mother in law once told me, many, many years ago "If you do it once, they are going to expect it of you". She was right. I started driving the tractors and combines over 25 years ago now. Good thing I love it. ?
When looking at wedding cakes for our reception (we did still have a small reception on May 23rd), I fell in love. I ended up doing wedding and all occasion cakes for about 12 years then major burnout took over. Have you ever worked from home, 7 days a week, no one to take over for you when you had strep throat and 4 wedding cakes plus sheet cakes and birthday cakes that weekend and you were throwing up in a trash can while working because the show must go on? And no time to go to the doctor until all the wedding cakes were delivered and you could get to an urgent care? Too many times like that helped break me of the whole cake scene.
We also had a couple kiddo's during that time. A daughter in 1995 and a son in 1998. More on my bundles of joy later.
I have been painting furniture for the last 10+ years or so. In 2017, I opened up a cute little store with my painted furniture and some home décor and some local vendors. I just closed it in December 2019. My cute little store snowballed out of control, stole every waking moment and exhausted me to the point of no going back. Stick a fork in me Jerry, I'm done.
That brings me to now. And where I am is Basco, IL. Population 91 as of 2017. That number is probably counting the 20-30 cats that you see in and around one of the vacant buildings where one of our kind souled residents feeds them. And I am actually not even in "town". We live out on gravel roads (gasp) southeast of Basco, but it is home. My husband lived here a little while before I did and never ever intended to stay here, in this house. When we got together he wanted to light a match to it but I am a sucker for an old house. Even though this one had very little, like almost nothing, going for it. We have put a lot of blood, sweat, and tears into this old farmhouse and it is home, with all its character and memories. Our roots are deep here.
Wow, that is getting too mushy! I think that's enough about me for now!
I hope you will join along with me in this new adventure, in this new decade, where I am excited to share my passion for all things home, crafting, painting, redecorating, etc. here on our family farm near Basco, IL!