Old Window Home Decor Ideas
Do you have old windows just sitting around waiting to be loved and displayed? Who doesn't, right?
I have repurposed so many windows over the years! Some have multiple panes, and some have none! Some have scrapbook paper and an initial. Some are just scrapbook paper, some are just hung as they are, and some have things attached to them!
There are so many things you can do with them to make them work with your décor!
Let's jump right in!
Window with scrapbook paper mod podged onto the panes…
When I did this window, yellow and gray were pretty big on the home décor scene.
Pretty simple. Cut the scrapbook papers to fit the panes, mod podge them on, and another coat of mod podge on top. Cleaning up the window is the worst part!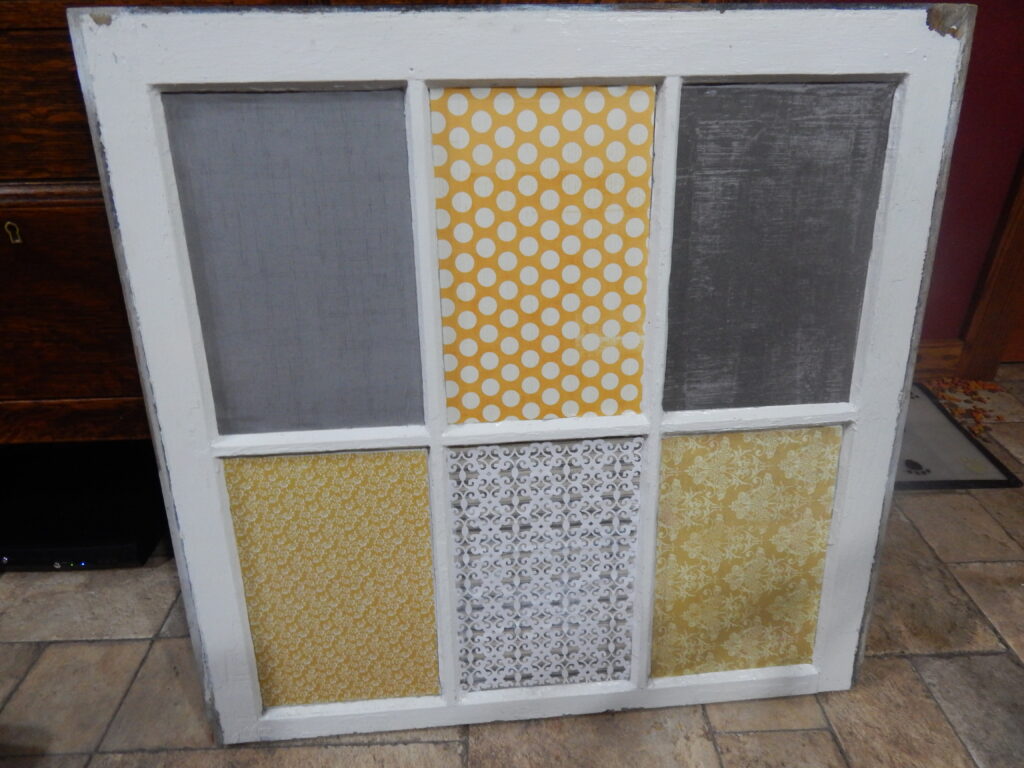 Farmer's News
For this one, basically the same as the last one.
This one was a farm theme.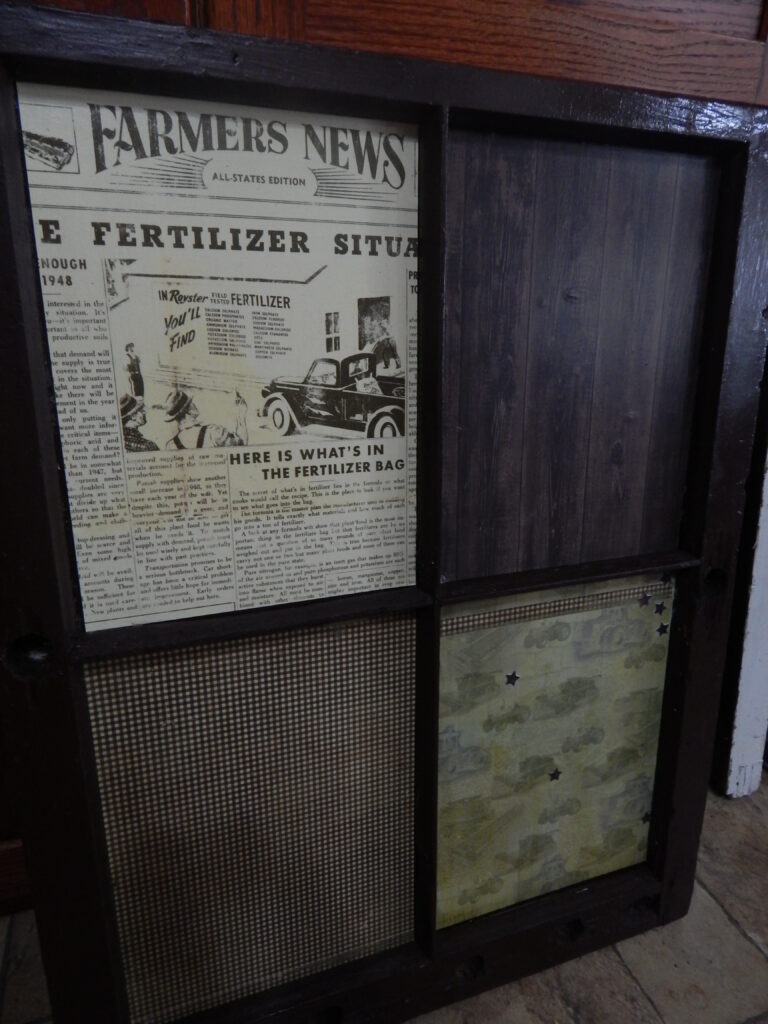 Case IH
Another farm themed window for the Case IH lover.
Random farm-themed papers cut and edged with a paint dabber and mod podged on to create this one. I also used the paint dabber around the edge of the window.
For the IH part that I glued on last…I bought it from Hobby Lobby. I can't remember if it was MDF or wood. But I cut the "H" in half and cut the I straight at the top and bottom. Painted them black, distressed, and sealed.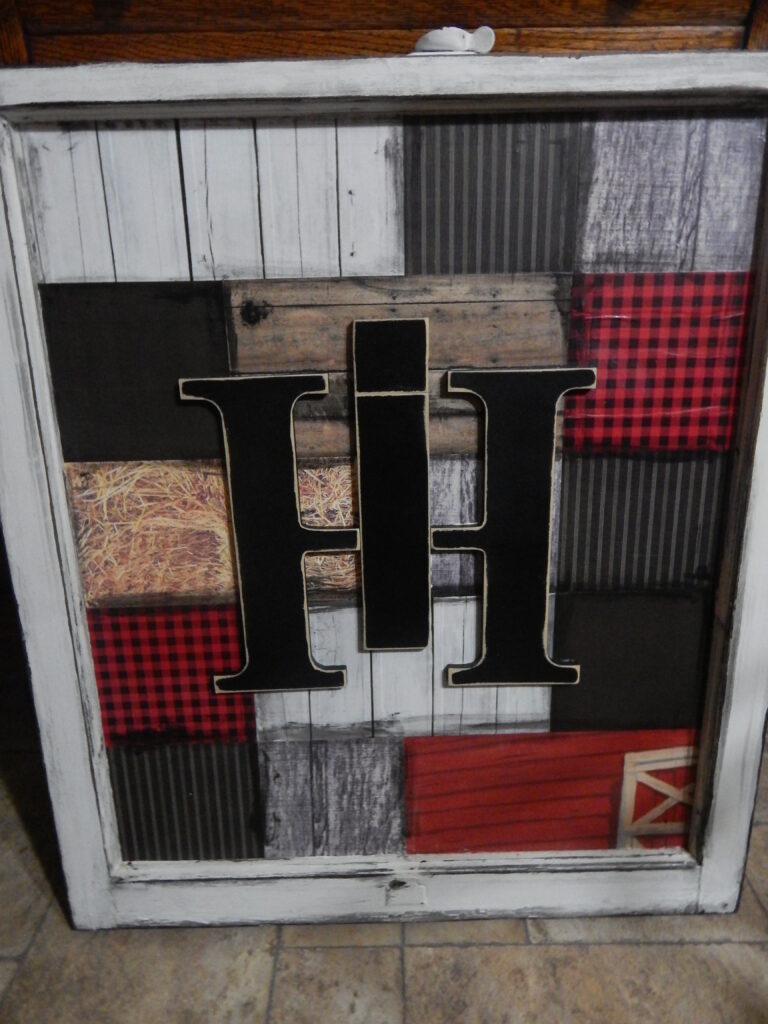 John Deere
Another popular one in our area is John Deere. Here are three examples of how I worked the John Deere theme into window décor.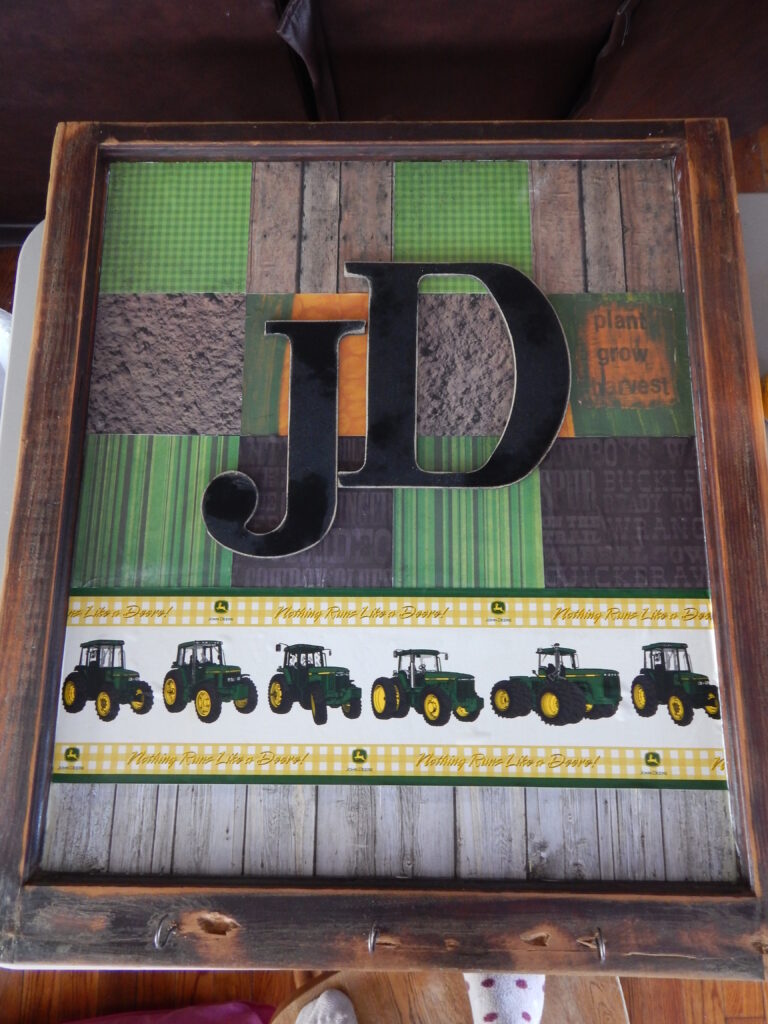 Initial Windows
Here a couple where I used their color scheme from their home décor and added their initial.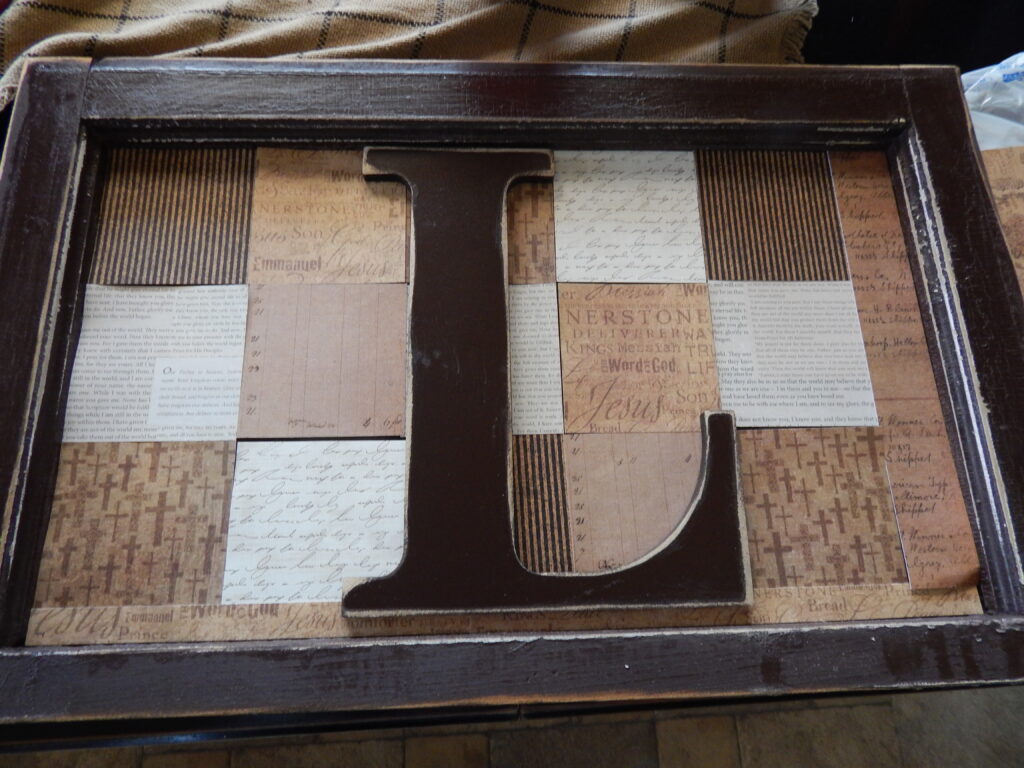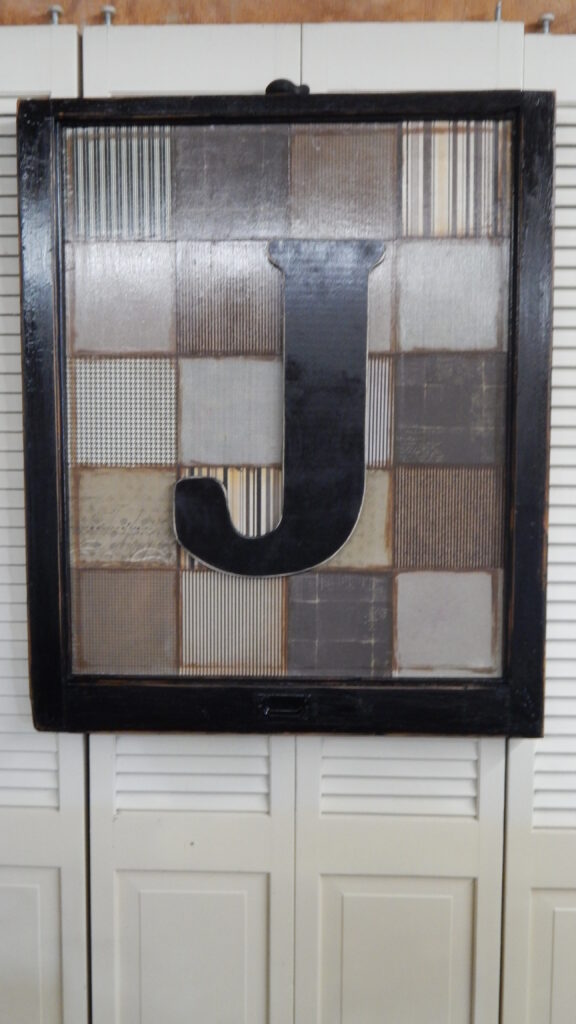 Baby Theme
This is one of my favorites EVER!
The client gave me all the photos, of course. And the rest was scrapbook supplies. Not to toot my own horn, but "toot, toot"!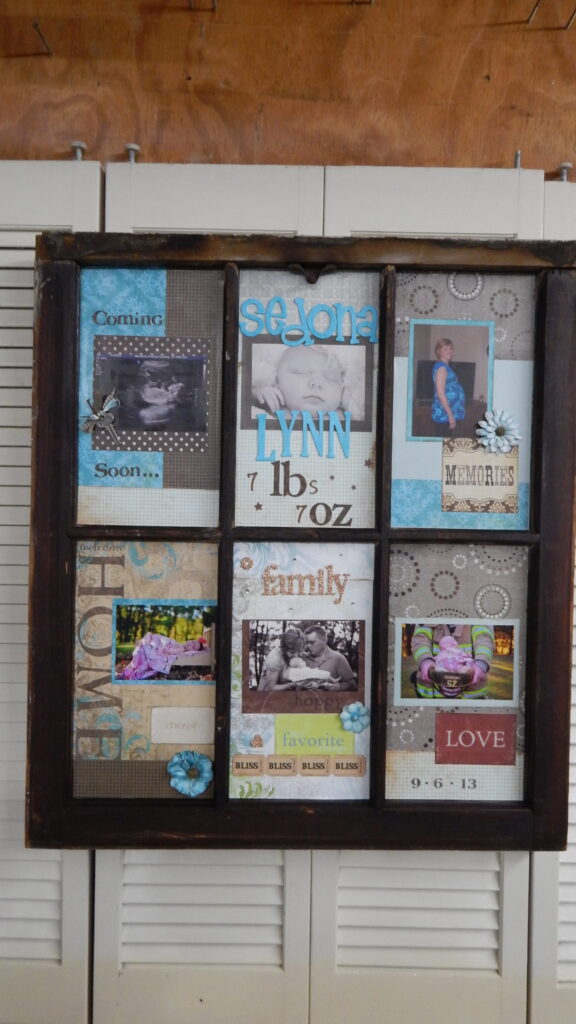 I don't know how it could have turned out any better!!!
Window/Jewelry Organizer
Once the window was all cleaned up, I added the 4 metal pieces. They screwed right into the wood frame of the window. They all came from Hobby Lobby. Such a fun piece!!!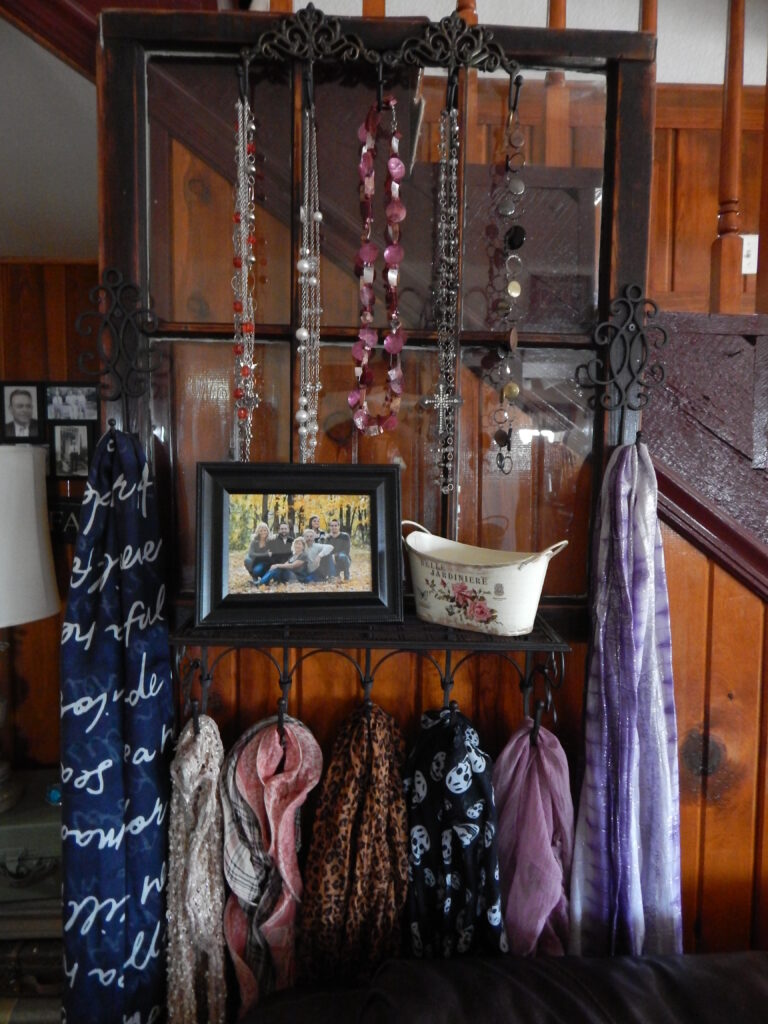 All's Forgotten
For this one, I tore the papers that I chose to use and used a paint dabber around the edges.
This was for my uncle who was in a band called "All's Forgotten".
I laid the pieces down on mod podge and then mod podged over the top of them also.
It's probably been 6 years since I did most of these projects, so I may be a little foggy on some of the things I used, but I think I cut the letters from my Cricut.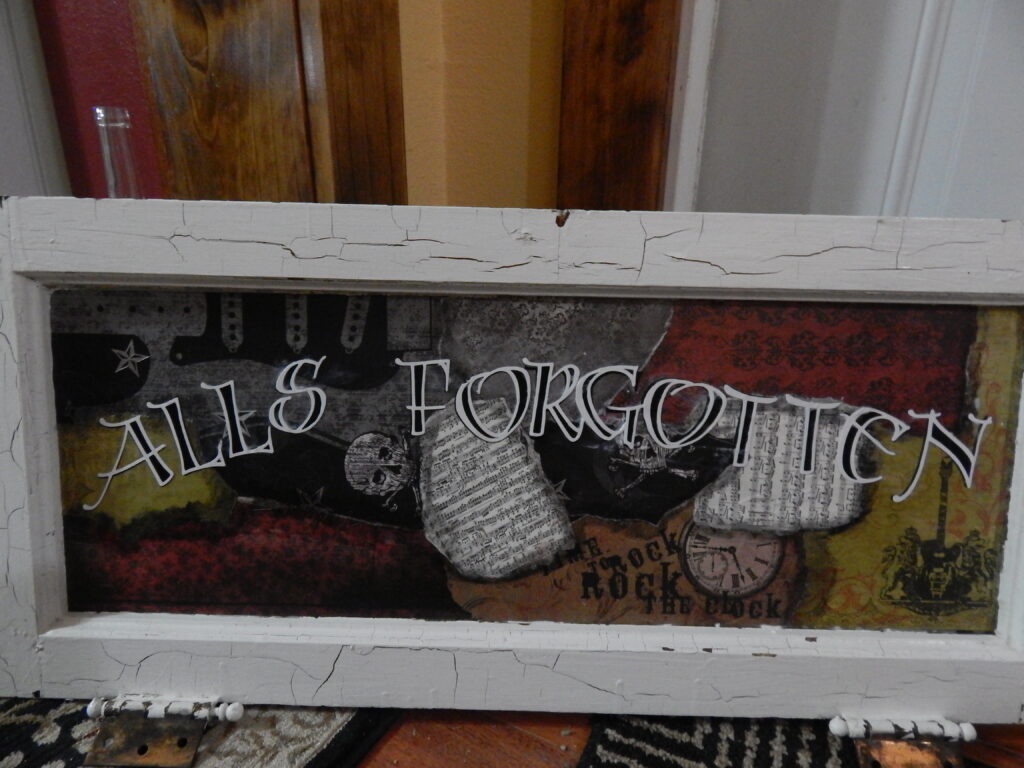 Two Window Cabinet
For this one, we just built a cabinet around these two windows. And by we, I mean my brother. It was my idea, but I needed him to make it happen!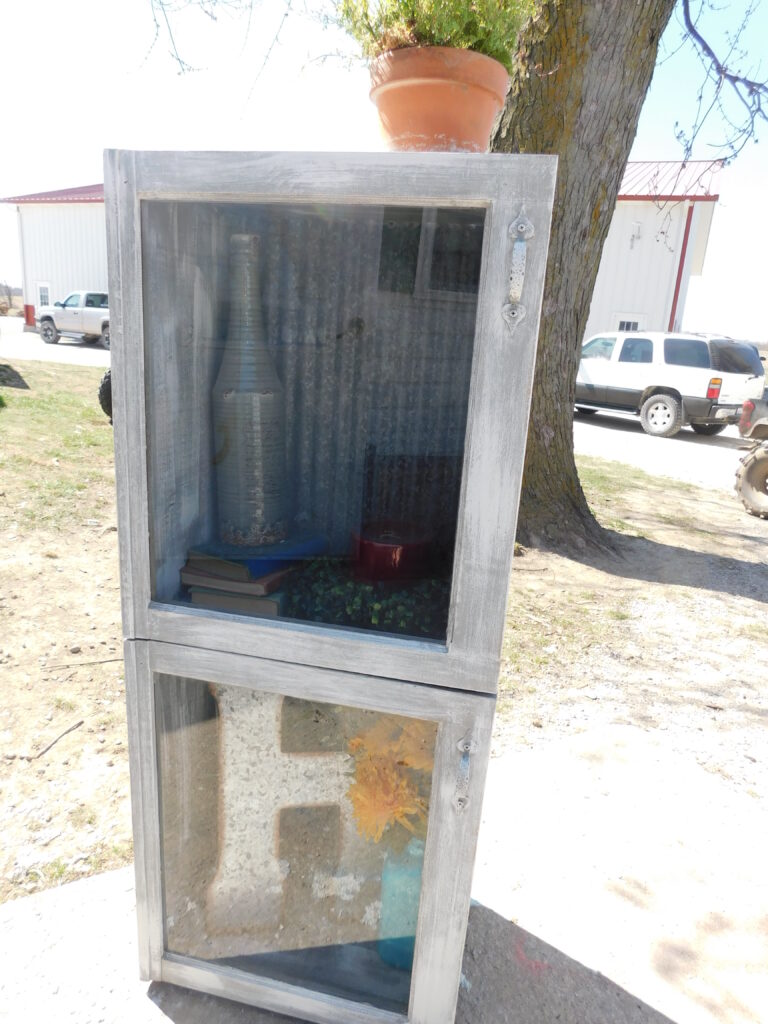 This is just a small sampling of what you can do with old windows.
I will go through more of my old pictures another time and round up some more ideas.
What have you done with your old windows?
What is your next window project?