Personalizing Your Furniture with Stencils
I love adding personalization to furniture, and stencils are probably my favorite way to do it!
I glanced through some of my pictures from the last several years and pulled a few to give you some inspiration! I hope you enjoy them!
"Home is Where your Story Begins"
This is one of my most commonly used stencils for furniture. It's a fairly big stencil, and it makes an impact. I have used it on so many pieces through the years and just love it.
This stencil came from The Stencilsmith. They have a wide variety of stencils for darn near every theme you can think of! If you happen to order from them, please tell them I sent ya! ?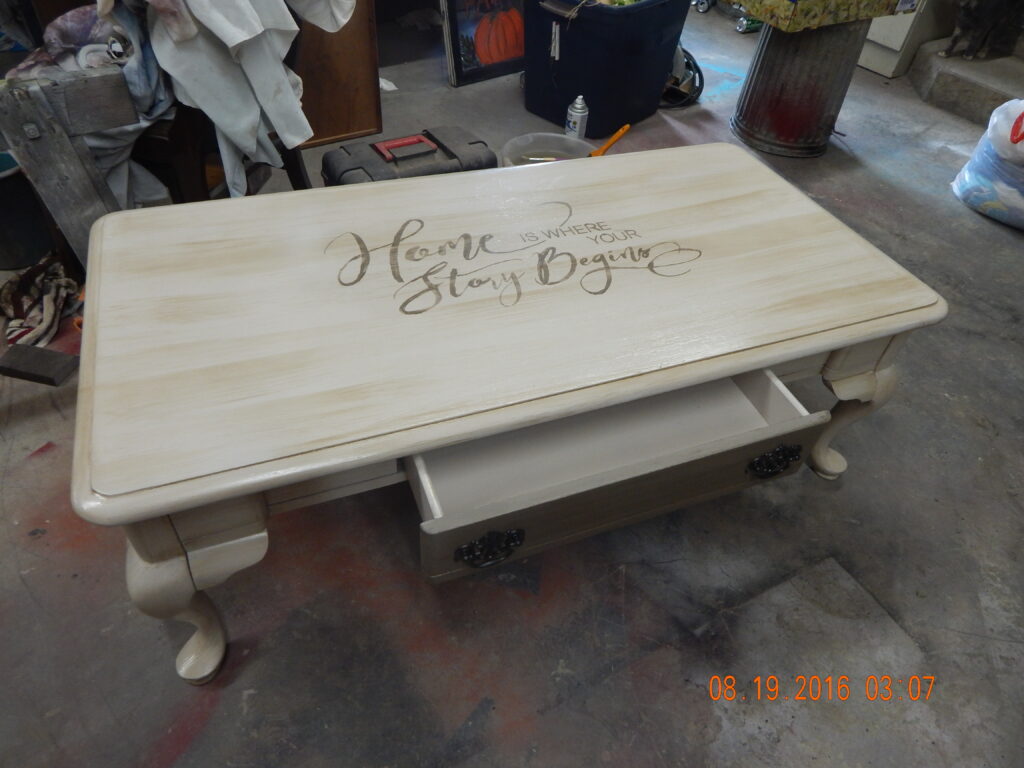 "And I Think To Myself, What A Wonderful World"
Another larger, fun personalization can have special meaning for the person who loves to travel, or who is a fan of Louis Armstrong, or just because!
Totally Random
When I was working on this table, Van Halen albums came to mind! Which led me down a number theme of other artists, including Chicago and Tommy Tutone! And apparently, I threw in "United States of America" for good measure, lol.
This was barnwood on top of a coffee table frame.
Complete randomness, but apparently someone else was vibing with it because it sold in no time!
French Script
French script is another favorite of mine. I love all things with script and numbers and words. I have no idea why. They just speak to me.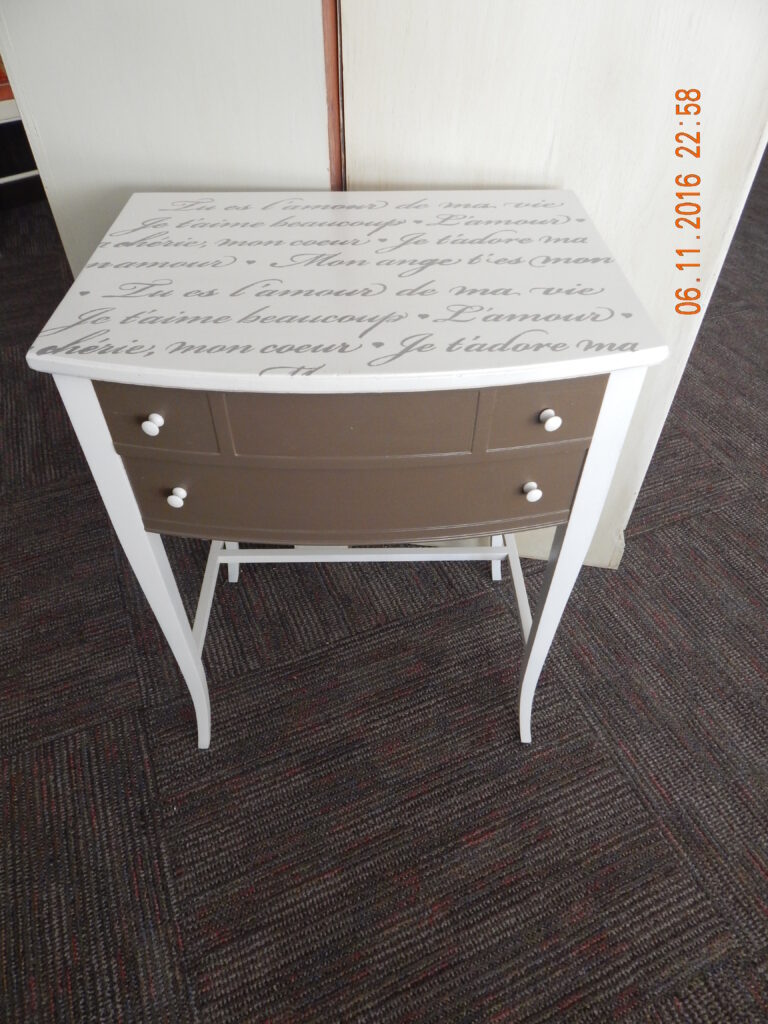 "Life is Beautiful"
A little more subtle, but still adds just the right touch.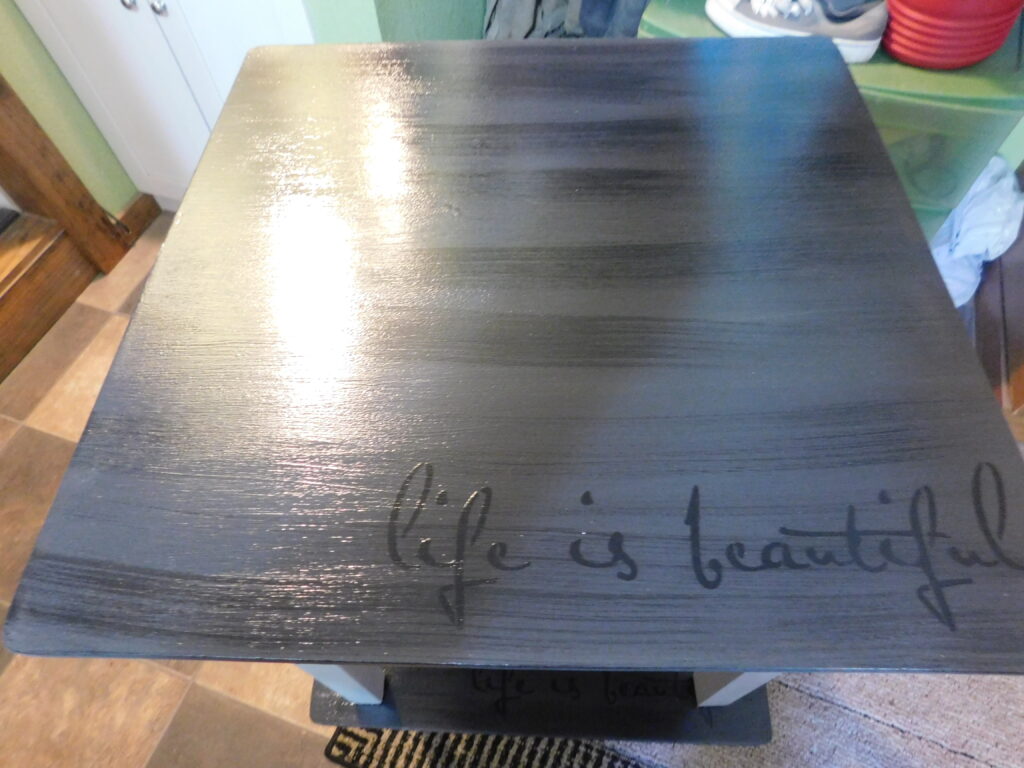 Alcohol Bars
I have several different alcohol stencils, and here is how I used one of them.
I also add stencils to more than just furniture. I have stenciled tons of home décor, windows, mirrors, filing cabinets, etc. Here are a few of those, also!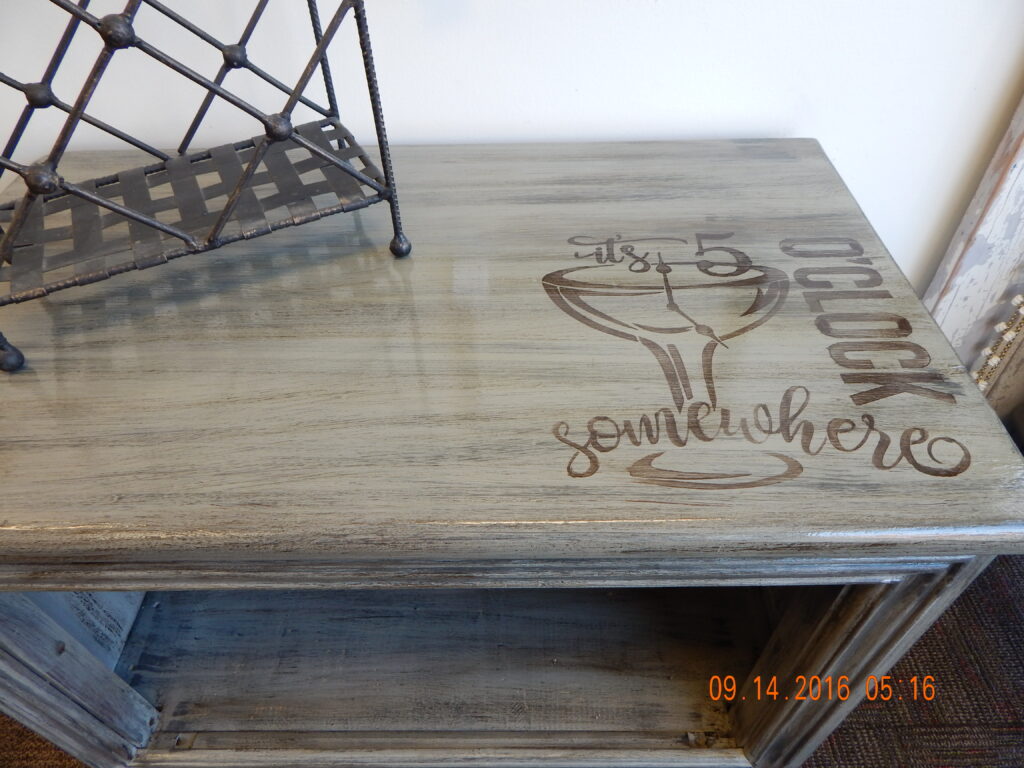 I hope that after seeing all these ideas, you will be inspired to "personalize" some of your projects!
Stenciling isn't hard, but it did take some practice, at least for me anyway! You can always practice on scrap wood or cardboard to get your feet wet.
The first stencils it tried…I was ready to throw in the towel. And I actually did for quite a while. I just let them sit. I wasn't doing it right. I had paint bleeds. I would paint them too thick, the stencil shifted. All the things.
Over time I have figured out the supplies I need to make them work for me.
Some stencils are less than. The mylar may be thinner and therefore they don't hold up very well.
Sometimes the font is too skinny, and it's hard to get the paint in there without pressing too hard and making them bleed.
Once I started using pouncers and sponge dabbers, it all came together.
A lot of trial and error.
I won't say I am the world's best stenciler, but I have come a long way, baby!!!
I would love to see what you create!
Are you looking for a free creative group where you can share your projects and get ideas from others?
If so, check out – this is my free group where people show and tell and ask for opinions! I would love to see you there!

https://www.facebook.com/groups/1037595059955549/