A Tale of Two Side Tables
I think this is my second and third set of these types of side tables.
And yes, you guessed it, they used to be vanities. For one reason or another, the vanity as a whole was no longer working out very well. I can't remember the exact reasons why now that they didn't remain vanities. Vanity's are usually a good seller, so I try to save them if at all possible.
But since it made sense for them to be separated, here we go!
The Blue Set
In all honesty, I probably should have dropped these in the ditch. They turn out awesome, but getting there can be a battle.
As you can see, they had lots of veneer issues. I'm sure they were stored in damp conditions or in a wet garage, and the moisture starts at the bottom and starts infiltrating its way up. It's so sad. I beg of you, please don't store furniture in a damp garage or basement, lol.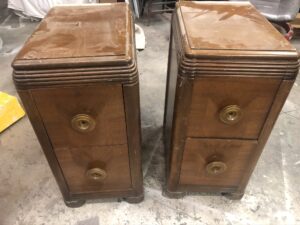 For this blue set, I chose to peel off the loose veneer, and then wood putty to fill it back in. There was a lot to be puttied.
Which, in turn, meant there would be lots to sand down. With waiting time for the putty to dry. Ugh.
Moving on, once I had them puttied and sanded and cleaned up, I set forth painting them Bunker Hill Blue by Dixie Belle. I had asked on Facebook what color everyone wanted them to be, and blue was the winner.
They even sold to someone during that post, before they even knew what color I was going with and/or how they would turn out! I love it when that happens! Someone has so much faith in you that they call dibs long before they are complete!!
And of course, I told her that if she did not love how they turned out that she did not have to take them. But thankfully, she did!
A couple coats of blue, and then I distressed them with my orbital sander.
Now when I sanded them, the wood shows through in places. Unless there is wood putty below the paint. Which, in this case, in some areas, there was. And that meant it didn't match the wood, so I just took some stain or glaze and on my finger and put it where I need it to be. Then I cleaned them up and sealed them with Dixie Belle's Clear Coat in Satin.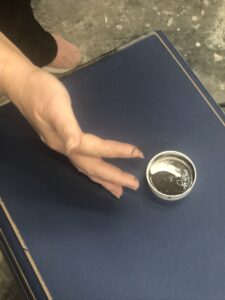 I replaced the hardware with these vintage copper knobs. They looked awesome with the distressing. They just seemed meant for each other, in my opinion. The new owner's opinion was that she would like to have the original vintage plastic knobs, lol, but she didn't tell me that until she picked these up. Good thing I didn't throw them away!
The Gray Set

I think the only thing different besides the color choice was that I removed a lot of the veneer instead of just filling in with putty.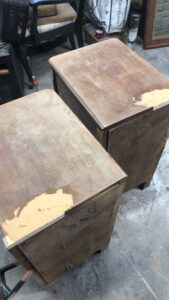 You can watch me remove veneer with an iron here.
The color is a dark gray called Prohibition Gray by Plum City Paints. I also distressed and sealed the same way as the other set.
I think I have at least one, possibly two, vanity's out in the carport.
Fingers crossed they can stay together as one unit! I really, really, really do not care to tackle another project like this any time soon!
Supplies: