I ❤ my fur babies. Now that my kids are grown up, and one is out of the house, and the other wants to get out of the house, my fur babies have now taken over the house. And I'm not ashamed.
To prepare (a week or two before), I had Courtney print out pictures on photo paper on my computer at home. I had to have her edit the images over to black and white for the look I wanted. If you don't have a printer at home, there are sites like Walmart or Walgreens that can print and mail to you at home.
First, I grabbed my canvas, and I picked my favorite pictures of them I wanted. I had to keep the pictures pretty fair; I couldn't showcase one dog more than the other! I'm pretty lucky I have one with all three dogs in it!
Then, I had to cut down pictures using my paper trimmer as they had white on the edges. When I had that done, I grabbed my canvas. On this project, I used 12×12 canvas.
Then, I took Dixie Belle's Caviar Paint and painted the sides and outsides of the canvas. The pictures would cover the rest of the canvas.
On the pictures, I took my Ranger Tim Holtz Paint Dabber in black soot and trimmed the photos with it to give it a more finished and pristine look.
Then I started to mod podge each photo on. For the center of the canvas, I used a scrap piece of scrapbook paper and mod podged it on.
Next, I grabbed a sturdy piece of paper like card stock and took one of my alphabet stamp sets and StazOn stamp pads and stamped Sadie, Stella, Twinkie on the paper. (Y'all can see my mistake! I accidentally used the exclamation point instead of the 'I.' Woopsie!) I also edged the outside of these with the dabber too.
I did have paper and some photo sticking off, so I took a sanding sponge and sanded the extra down. Then I reused the dabber to blend back in.
I, then, mod podged the name tags on the scrapbook paper on the middle of the canvas.
Last, I put a top coat on canvas which was the mod podge to give everything a final finish.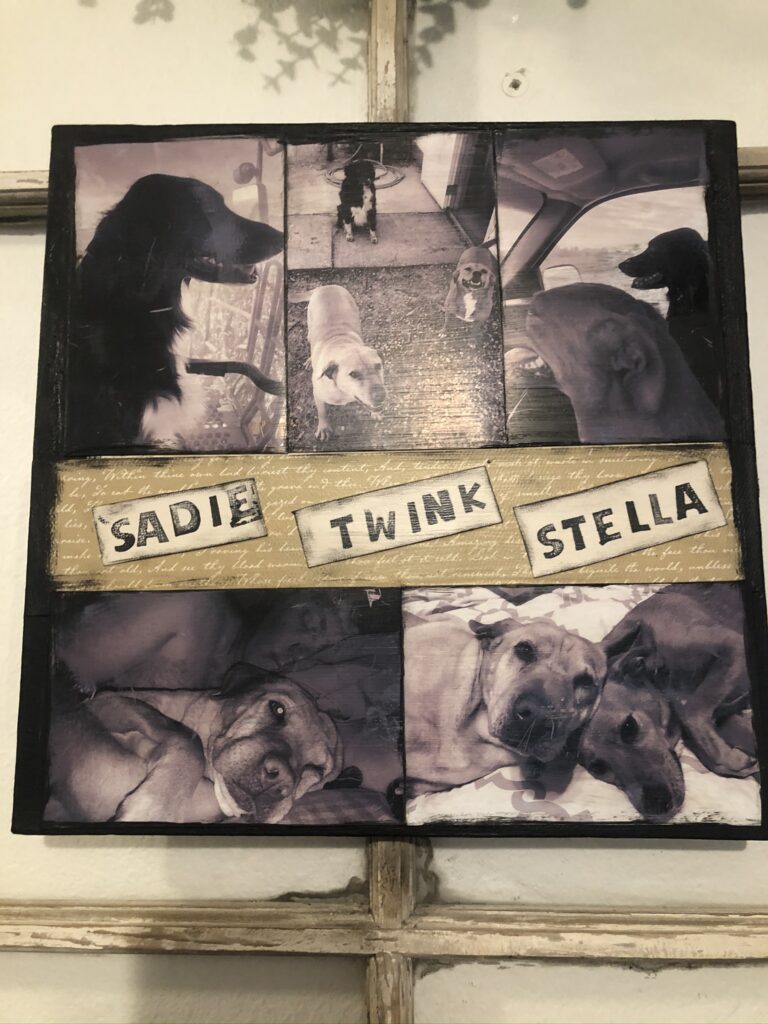 Supplies: