Let's Go Thrifting!
This has been a rare occasion for me in the last few years! I've just been too busy. I love to go, but I truly don't need anything…like at all! But I always find things…or they find me.
For this trip, I had actually taken a few boxes of "stuff" to get rid of. So there's that.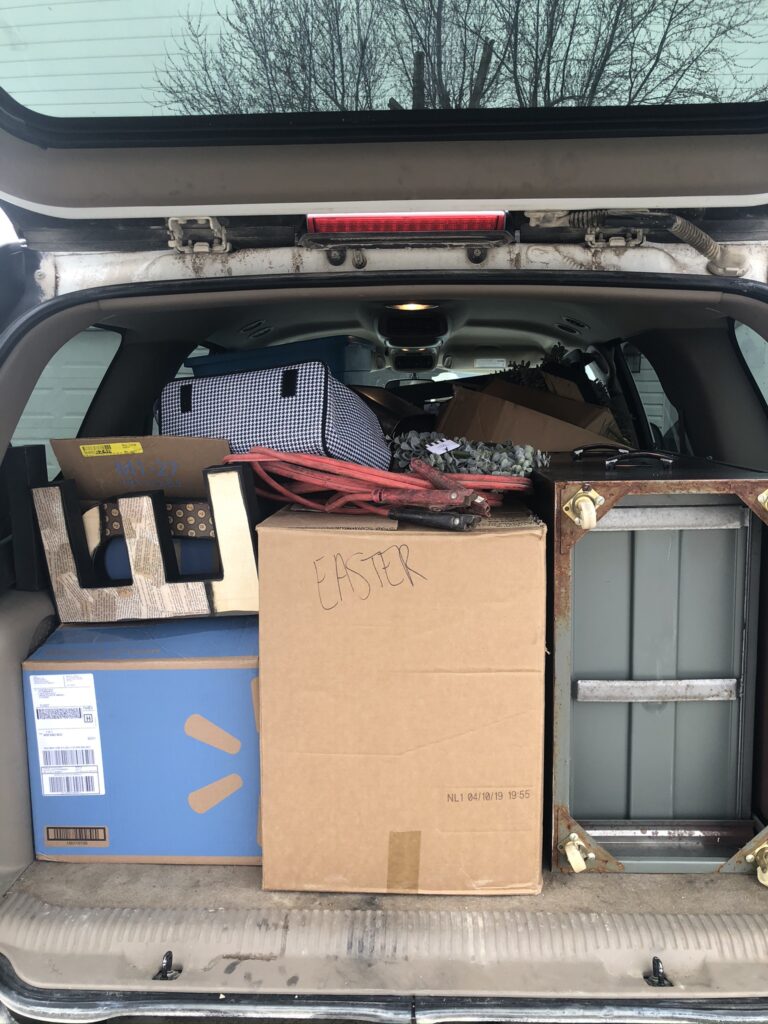 This was in March of this year…right before everything shut down for Co-Vid.
I am so glad we got to go. Like I said, it was two birds one stone kinda trip, lol, but I'll take what I can get.
For the last ten years or so, furniture has been my main thing to shop for at these stores. Unfortunately, their prices are a little bit high. I used to get some pretty good deals, but now they know all the flippers want those pieces, so they upped their prices. They've been onto us for quite some time now.
I had so much fun! And took a ton of pictures along the way! I kept posting to Facebook, and people kept wanting to know where I was and how much the prices were! It felt so good to be out and browsing! When I had my store, I barely had time to breathe, let alone shop thrift stores, so this felt pretty awesome!
We started at Goodwill. Another thing I usually look for is small wood items that would be easy to sand and repaint to give them a new life—shelves, boxes, jewelry boxes, etc. I have quite a few of each of these items in my stashes currently, so I definitely didn't need any more this particular day.
These are some of the wood "smalls" that I came across…
These almost look like Hobby Lobby rejects if you ask me? Pretty cool to be in a Goodwill, but they were also not on the cheap side, lol.
I snapped a picture of this because…how cool would it be in a kid's bedroom decorated with vintage sports memorabilia! So cute! But that's how I roll. I see one piece and want to decorate a whole room around it and run with them!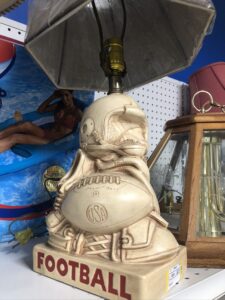 I would have grabbed this clock, but it was $9.99, and I have plenty, so I left it behind. But wouldn't it have been adorable if you took the brass piece off and spray painted it oil rubbed bronze and then painted the rest of the clock in a creamy off white with some brown antiquing?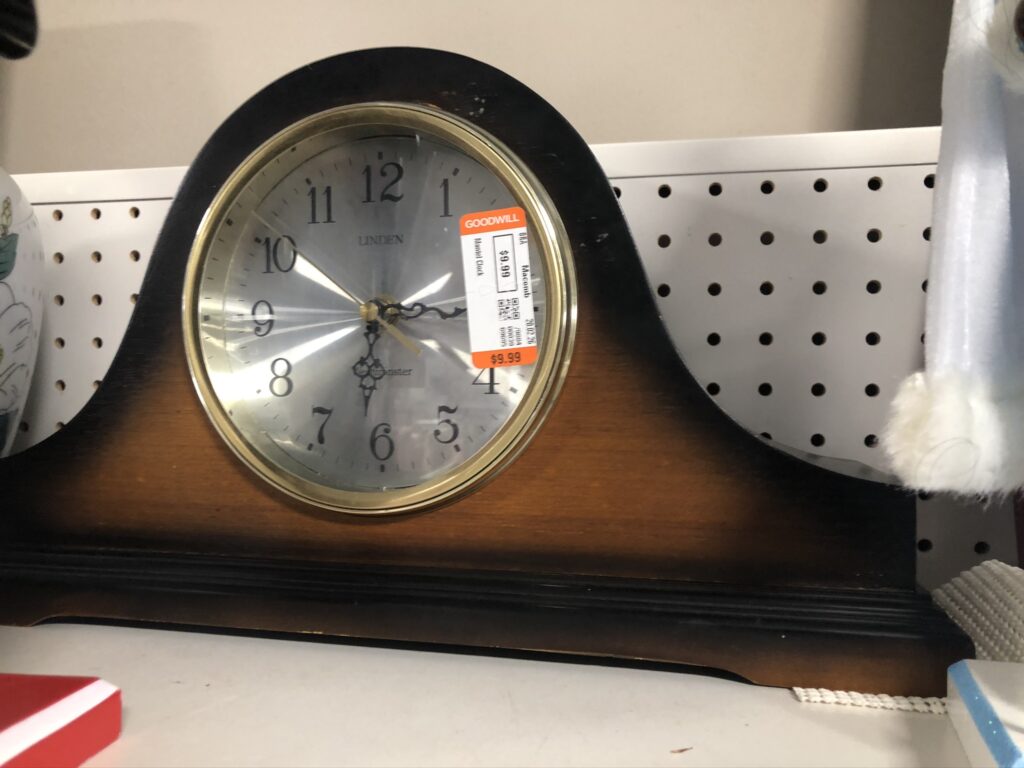 There were some pretty cool prints. I think these would have been awesome to put in a nice big black frame.
And obviously they had some pretty cute kids clothes and some cool toys.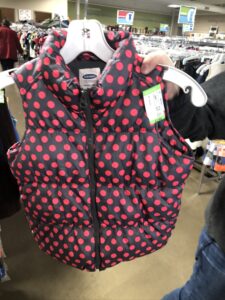 We also hit up The Crossing Thrift Store on our way out of town.
If I didn't already have a bazillion shelves, I would have snagged this one. But I stayed strong.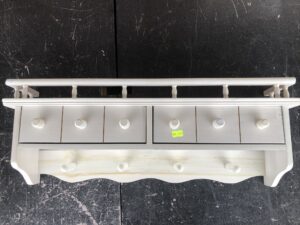 I wasn't strong enough, however, to leave this one behind. I'm thinking a good scrubbing will do it wonders. And I plan to use it when I redo our bathroom.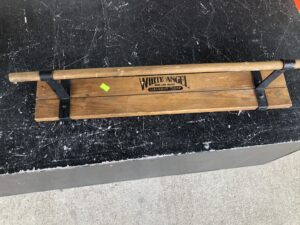 Clocks are one of my weaknesses. I love this one, but seriously? At $24.99, it was a little too rich for my blood.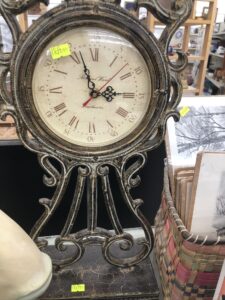 I loved this table setting and didn't think $29.99 was terrible, but I just didn't need it. If it had been more of an off white though, I probably would have grabbed it to redecorate my built-in hutch. It was a narrow escape.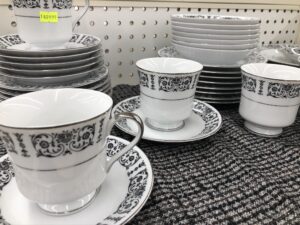 I thought these glasses were pretty cool!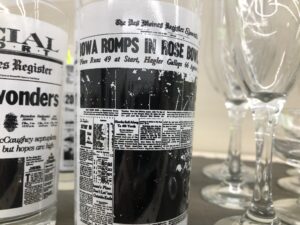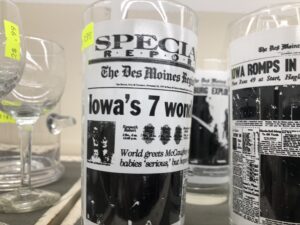 There's never a shortage of picture frames or glassware!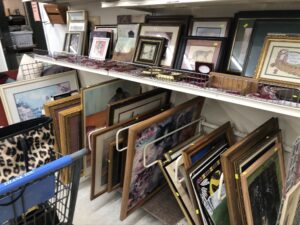 These two pieces are pretty cool. I don't think I brought either one of them home with me, though!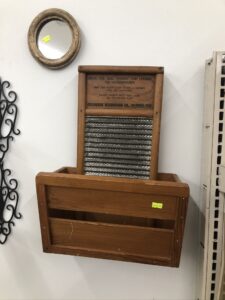 While not necessarily my style, they would be cool in a cabin theme or man cave!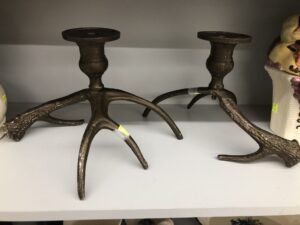 Oh, my word! If I had been pulling my trailer, this baby would have been coming home with me! It was huge! So many storage possibilities! I'm getting ready to upgrade my garage area into a "studio" and wouldn't this have been perfect for a gorgeous storage piece in there???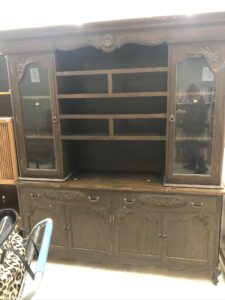 I'll stop there. But going through all these pictures has me itching to go again!!!
What are your favorite things to look for at thrift stores?