I wish I could take total credit for this beauty, but in truth, I am not a carpenter.  I barely have the time to do the projects that I know how to do.  My tiny brain has very little room left for learnings.  That being said, "I have a guy", lol.  He is amazing and rarely thinks my ideas are crazy anymore.
Anywho…just in case you can't tell, the back to the bookcase is an actual oak headboard.  I had the carpenter add the shelves/bookcase part and wheels.  The wheels are a huge plus since this thing weighs a ton.  It is a whole lotta wood so why wouldn't it be?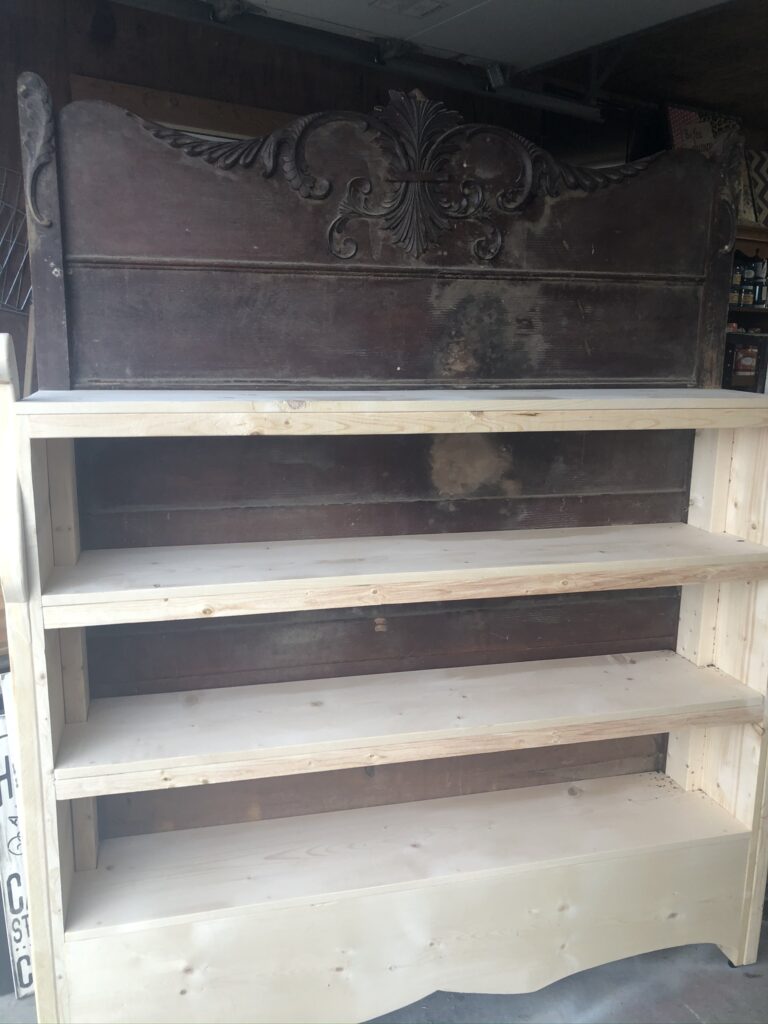 It was never my intention to paint this beauty green. I am a huge fan of green, especially this shade, it just wasn't the first color to cross my mind.
I was originally thinking white, with maybe some distressing and antiquing. I had even prepped it to be painted white. But… I wasn't completely sold on it.
Red briefly crossed my mind. Then black and distressed. Several ideas were thrown at me from my followers.
 My sweet, sweet friend Ana suggested green.  Hmmmmmm.  That kind of lit me up!  But did see if I have enough green on hand? Of course, I didn't.  So I kind of had to make a custom color.  I love that kind of old vintage green…know what I mean? That was the look I was going for!
This custom concoction started with 'Kudzu' by Dixie Belle.  I only had one container of it and I just knew that would not be enough to finish this beast.  So…I took the 'Kudzu' and added a bunch of things to it.  I am not sure if this is the complete list, but I think so. I had my heart set on 'Kudzu', so I poured 8 ounces of the Kudzu, 8 ounces of 'Frog Green' by Dixie Belle and a few more ounces of the"Frog Green' and some 'Greystone' from Miss Lillian's and some 'Moss Green' from Miss Lillian's and some 'French Roast' from Miss Lillian's and 'Lichen' by Fusion Paint. LOL. I guess it would be safe to say it's a custom color but the closest would be 'Kudzu' by Dixie Belle ?
After giving it two coats of paint, it was all marrying together very well! The headboard to the shelves. And mixture of paint colors! Folks, I think we have a winner!
I added some antiquing glaze also.  Did you see that detail on the headboard? (swoon)  I started with a black walnut glaze and that just wasn't doing it for me so I ended up using a dark brown, 'Truffle' by Miss Lillian's. 
In case you can't tell, I fell head over heels in love with this piece. Especially after hubby came out and looked at it and said he liked it too! All I had to do was figure out what piece or pieces I would have to get rid of to make it fit in my house!
Supplies
Let me know what you think in the comments!
.