So, we don't talk about it a lot, but my daughter has epilepsy. Thank God they are the absent kind. It could be so much worse. But that isn't what this is about today! But since we go to Mayo for doctor appointments, we decided to turn lemons into shopping!
Her doctor appointment was scheduled for Monday at 12:30 PM, so we decide to head up the day before and try to get some Christmas shopping done and hit some thrift stores. It's about a 6-hour drive for us to get there, and we usually plan her appointment for around that noon to 1 o'clock time so that we can drive up in the morning and head back home right after.
One other appointment in November, we decided to go up the day before, checked into the hotel around 5 PM so I could get some work done without interruption. I was trying to get ready to teach a class, and I needed to focus. I really cracked down and got a ton done in that room! And stayed until checkout time and felt so productive!
But I digress! Again, not what this is about! Let's get to the shopping!!!
We stopped in Coralville, Iowa, on the way up. Courtney searched for thrift stores around us, and 'Stuff' was our first stop! I had never been to one or even heard of one before. It was pretty big! Even had an elevator! It was very similar to Goodwill, in my opinion. I did a horrible job taking pictures this trip for the most part. But I did get a lot of fun stuff!
At Stuff, I ended up with mainly Christmas items at 50% off! Who doesn't love a good sale, right?! And Courtney managed to find a Christmas present for her boyfriend there!
I was too impatient to wait in line at Salvation Army, so we rolled on to TJ Maxx and Marshall's. Found a couple cute Valentine's Day items!
Dollar Tree was a bust, so we headed on to Rochester, MN, and made it to Savers before closing! Here are some of the fun things I saw at Saver's, and I even brought a few homes. Can you guess which ones?
I'm pretty sure this is a wreath holder—kind of kicking myself for leaving it behind but oh well.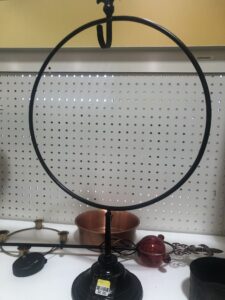 We also hit a couple farm stores that day but had no luck finding anything we were looking for there, as far as Christmas gifts anyway!
After Saver's, we found a place to spend the night and had Denny's deliver to us. It seemed to take forever. Finally, Courtney went and opened the door, and the food was there. They never knocked or anything. Of course, we paid for it ahead, and I understand the whole contactless delivery, but a little knock on the door would have been nice.
The next morning we got going at a decent time and hit a couple more farm stores with very little luck.
Then we searched for antiques and hit one. It was jam-packed and pretty much what I used to think every antique store was like. Floor to ceiling stuff. Lots of glassware. Lots of cool stuff, though, too. But also priced way out of whack, if you were to ask my opinion.
But again, Courtney found another Christmas gift there for her boyfriend, so it was worth the stop.
Then we decided we had time for one more stop before we had to go. And this one was my absolute fave. We had a little trouble finding it, but it was worth it.
When we first went in, I didn't see much. It is also a Feed Store. I went in and looked around was ready to go and walking out the door, and the guy said there was a lot more in the back.
He wasn't kidding!
I loved this place!
It was so cool!
The antique store was in the back of the place and it was totally my kind of store! The stuff was organized so well! Suitcases, and thermoses, and tins! Oh My!!!!
These coffee tins had amazing graphics! I don't drink coffee but the yellow one really made me wish that I did just to have an excuse to buy it! The green one was pretty cool, too!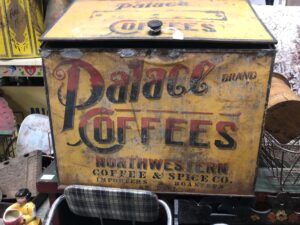 And so many suitcases! I have a thing for suitcases, but I already have too many so I held strong in that area!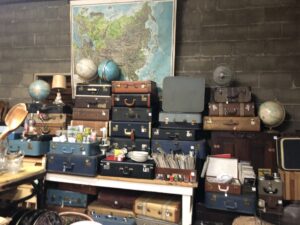 They had a few toolboxes also! Another one of my weak points!
How cute are these! If I had any grandkids, I probably would have snagged that barn!
And the metal dollhouse reminded me of the one I had as a kid!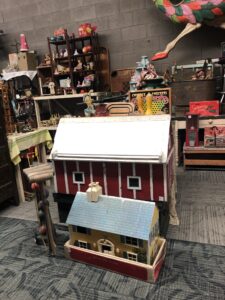 They also had fans, linens, ice skates and so much more! PIX OF THESE THINGS
So much to see! This will definitely be a stop on our next trip! And Savers! Those were my favorite stops for sure!!!
Do you know of any fun stores like this in your area? I would love to hear about them! And possibly check them out sometime!!!
XOXO,
Tammy