I just love using stencils when it comes to crafting and making home decor. I get asked a lot what are the best stencils to use and also how to exactly use stencils in different projects. Today I am sharing all the tips and tricks I know with you when it comes to how to stencil.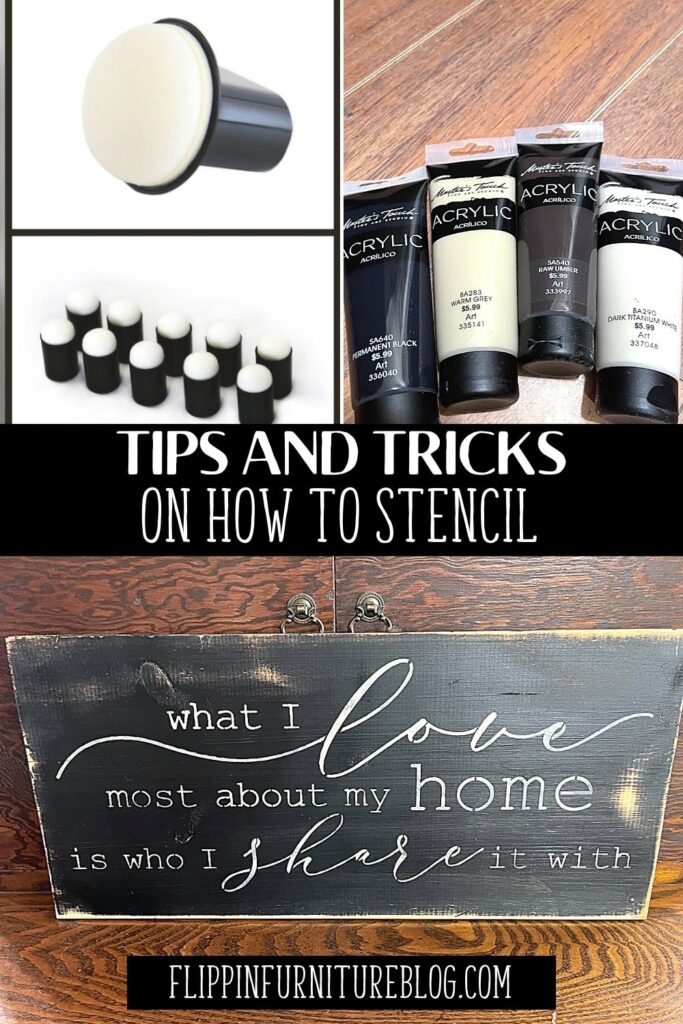 How to Stencil When Crafting
I have been using stencils for a long time. Which has allowed me to be able to try out lots of different tools and paints over the years. When it comes to stenciling it is a skill that over time comes naturally and with time you can honestly do it with your eyes closed. Well, not really but it does become super easy once you find the right tools, paint, and stencils. I promise you with the right tools and paint you will be stenciling like a pro.
Tips and Tricks on How to Stencil
Honestly, this is something that I just wing but when I started really thinking about it I do have lots of tips and tricks I use when I stencil. Like which is the best paint, the best way to apply it, and how to make sure your stencils will all fit on the project you are working on. Follow along as I share with you all my tips and tricks on how to stencil.
What Paint Should I use when using Stencils?
Naturally, I typically use whichever paint is the closest to me, but in all honestly, I start with finding the right color I want for my project. If I had to pick a brand that is my favorite to use when stenciling I would say it is Master's Touch acrylic paint from Hobby Lobby. You will find it in the art department. I love it because it is thicker and creamier than a lot of other craft paints.
Some people, like my best friend from high school who is a lifelong crafter, will say to use the more runnier stuff. She loves it but I do not. I think a lot has to do with what you love and what you started off using and are comfortable with.
Master's Touch comes in a lot of different colors but here are my favorite colors of theirs. They range from neutral basics to beautiful pops of color. If you are looking for new colors to add to your paint collection for stenciling then try these:
Permanent Black
Raw Umber
Titanium White
Dark titanium white
Chrome Oxide Green (my favorite green for grass) 
Crimson (just a good red. Not too bright, not to burgundy)
Lake Blue (perfect for beachy signs)
Yellow Ochre (good mustardy color)
Warm Grey (I actually think it's tan, but I didn't name them!)
Ocean Green (another good beachy sign color)
https://www.hobbylobby.com/Art-Supplies/Painting-Supplies/Acrylic-Painting/Permanent-Black-Master's-Touch-Acrylic-Paint—4.1-Ounce/p/8403
What is the Best Way to Apply Paint Over a Stencil
I have my go-to favorite tools when it comes to applying paint over your stencil. I started off with stencil brushes and they were not my friend. I did not like how my craft projects turned out when using them. That is when I made the switch to something new and I totally love them. I now use and only use these:
These are my go-to's, even my husband loves them! You can see him use them in the zip code project we did together! They are easy to use and they really do help make the paint evenly spread and fill the stencil easily. 
Obviously, if the project is a bigger stencil project you would go for the jumbo dauber. And the smaller, you would go for the finger dauber. If you haven't ever worked with these tools before you are going to love how easily and efficiently you can get your stencil complete! 
How to Clean and Store your Stencil After Using
When you are done using your stencils it is best to store them flat and clean. You can use a baby wipe to clean your stencils after each use or wash them with a little soap and water. Allow them to dry and make sure they are flat during the drying process. You do not want your stencils to curl up.
Where Do I Get my Stencils?
I purchase my stencils from The Stencilsmith! They are a small husband and wife business here in the USA with over 8,000 options to choose from! Check them out here — https://www.thestencilsmith.com?aff=6Or I purchase from Essential Stencil! They are a great option too! They are also a husband and wife combo! Check them out here — https://bit.ly/3eWsllE
How to Stencil on Wood
Stenciling is an amazing and easy way to transfer words and designs onto wood. I love how stencils can turn a plain chair into a beautiful piece of home decor. When it comes to using stencils on wood, don't be afraid; just be inspired. Follow these simple steps, and in no time, you will be stenciling like a pro! 
Lay out your stencils to make sure they will fit the wood piece you have
Work from the right to left to ensure you fit everything on your board you desire
Use daubers and work your way from the outside in making sure you paint is nice and evenly spread
If you are using a letter twice in one project be sure to wipe off the back of the stencil so you don't get paint on your board where you do not want it!
Before long, you will be stenciling like a pro, and hope you learned a little more about how to stencil today!
Just pin these tips on how to stencil below to find the instructions later!