Drawer Wall Hanging & Old Window Hanging
I have kept so many drawers over the years. And thrown so many away. They can make such cool repurposes!!! I have made pet beds, pillow storage, wall shelves, jewelry organizers, etc.
I try to be more selective about which drawers I keep. I used to keep them all, but I only have so much room, so if they have a flimsy bottom or aren't real wood, they get kicked to the curb. ?
Drawer Wall Hanging
This cute little drawer happened to make the cut and got to stick around!
I made this on a Facebook live one day. I took off the hardware completely since you wouldn't really be able to see it while it was hanging on the wall anyway, and you could place a photo or something on the top if you wanted too!
The mainframe of the drawer, inside and out, I painted a very dark brown, but it does look black in the picture.
The next thing I did was cut the fabric to roughly fit inside the drawer and then applied it to the drawer with mod podge.
Once it was on there, I put another coat over the top of the fabric and then left it to dry overnight.
When I cut the fabric, it was just a little big because, and then I think it stretched a little bit while I was working it and smoothing it out. If you let the mod podge sit overnight, you can easily cut off the excess with a razor blade. Just be careful not to gouge into the wood, or you may have to touch up the paint.
I staged it a few different ways just to give my followers some ideas on how to make it their own. I love how it turned out, and I love the little wreath I hung in there! Isn't it just the cutest!
This would go perfect in my house! Would it go with your home décor?
Old Window Turned Coffee Themed Wall Hanging
Since I have been doing lives every day, I am definitely going through some of my stashes that have been in my way for soooooo long!
This cute little window was up against the deep freeze with several old picture frames and canvases…just waiting for its turn. Apparently, I almost used it a long time ago because it was already sanded and pretty well ready to go. I just cleaned it up and washed the window, and it was ready.
I was just this perfect little window, white and distressed and ready to shine.
I couldn't find any of my stencils on hand that would fit it perfectly, but I did find this close one. I just didn't use some of the borders around it.
Then I used my little finger dabbers and enamel paint and went to town. I used black for all the lettering and brown for the mug with a little bit of white for the "steam". Voile. The perfect coffee themed wall hanging to go with your coffee bar!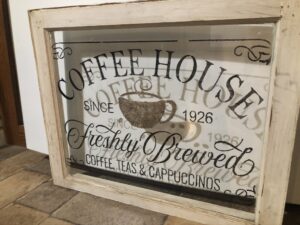 Supplies: