Instagram Accounts I Am Obsessed With?,
Heya!!! Today I am wanting to share some of my absolute favorite Instagrammers!
Their pictures just grab me and pull me in!
They make me look at every detail and try to figure out how I can bring just a little bit of their "look" into my own home!
They make me want to make over everything in my home except my office! And that's because I did it last year in this whole white, muted, neutral, chippy, woods, antique sorta way!
I think I was first in awe of this style a few years back. Is it farmhouse? Is it country? Is it country chic? French country? Shabby chic? A mix of all of the above? All I know is that I love it. I used to be all about color.
I live in a "legit" farmhouse, lol. Meaning my house is on a farm, and we actually do farm. Legit, right? I'm not sure why I felt the need to put that out there… Anyway…we have remodeled our home, room by room, over the last 25 years. In the beginning I painted walls and cabinets, and changed curtains, changed throw rugs, put down peel and stick flooring and basically anything and everything I could to make it homey.
If I remember correctly, I believe our bathroom was a kind of sky blue when I moved in. With horrible plastic tiles falling off. I also remember peach throw rugs in there at some point. And a mint green. And purple/lavender at one time. It is currently mustard. I still like it but I do see it becoming white within the next year sometime.
I have a dark wine color in the laundry room currently. It's so small that I probably won't do anything with it and no one really sees it. Maybe after I get the rest of the house caught up.
I have a turquoise wall upstairs that used to be my scrapbook room. I'm thinking I will move most of my clothes up there sometime and call it my walk-in closet or dressing room. Unless I can purge enough clothes to keep them all downstairs. The jury is still out on that one.
My kitchen. Well. The cabinets were a dark walnut stain when I moved in. One of the previous renters had painstakingly stripped the doors and stained them at some point. But they were so dark. I wanted to brighten things up. So I painted them. PINK. Yep, you read that right. This was the early 90's and pink/mauve and country blue were VERY in. And to top that off, I'm pretty sure I used some lovely country blue contact paper as my backsplash. Good Lord why am I telling you all this?
Our home has went through many, many, MANY changes over the years. Some of them quite hideous. And yes, there was even sponge painting involved. I even did it on my daughters dresser set once. Base color was yellow, with pink and lavender sponge painting on top of it. Hid-e-ous. Well now, anyway. We were all in love with it back then.
I guess I tell you all of this because the look I am into now is so far from my colorful past! I am on my way to neutralizing the majority of my house as soon as time allows. I have been stock piling some small antiques. Wood boxes, corbels, etc. But I have to paint the walls first. I can paint furniture all day long but I absolutely detest painting walls.
Just in case you can't envision the look I am going for, here are my current favorite instagrammers who are already decorated the way I want my house to be when it grows up! It will probably be out of style by the time I get it done, but a girl can dream!
In no particular order:
For this photo, what grabs me the most is probably the locker cabinet! I have wanted to do this in my house since i saw this photo a year or two ago! I even have a locker cabinet, but i just can't make it work. My husband's desk is going in that spot in my house. I'll have to use the lockers somewhere else 🙁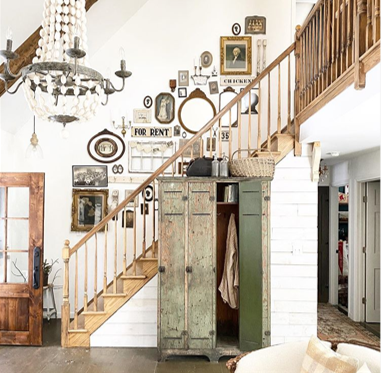 For this photo from Burlap and Rust, i absolutely adore the big black sign with the white lettering! Annnnd the little boxes on the wall! I'm not sure what the sign stands for in this picture, but for me I could use the 4 (because there are 4 peeps in my immediate family), and put an H at the top, and Huls & Co in the middle! I may just make a sign like this on a live one of these days!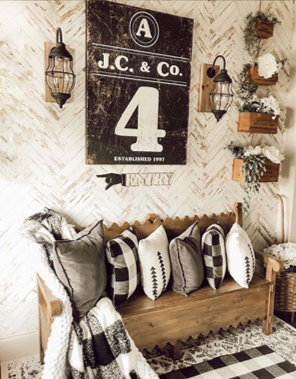 The ponds farmhouse…I love this big wide open space. The crisp white against the black stair railing. The wood door and wood hutch next to the white walls.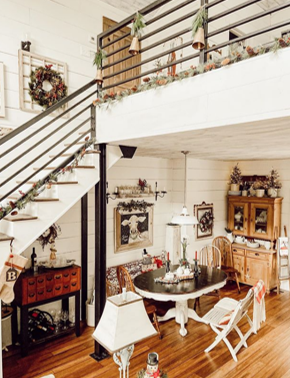 J & C farm finds. I love the black. The black pumpkin. The black lamp without a shade, showcasing its black wire frame. The bathroom sign. I would really love to see the other side of the room also. Looks like i see some tin on the ceiling and some pallet wood on the wall?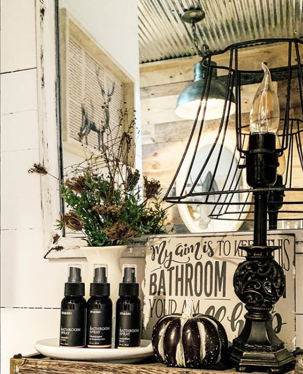 Farmhouse for 8 has me looking for campfire marshmallow tins every time i hit an antique store! And the sleigh as a coffee table is an awesome touch for winter, with the little Christmas tree and vintage thermos!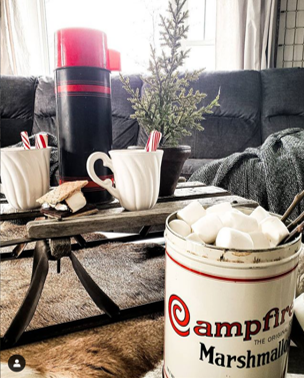 The found cottage. Do you see that massive hutch in the background? LOVE it. And the coffee table is pretty cool, too!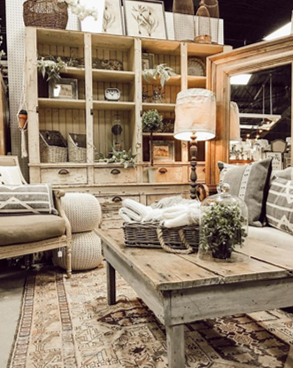 The cotton shed. An old trunk. Some vintage boxes. Gorgeous old window. And i am always a sucker for an antique fan!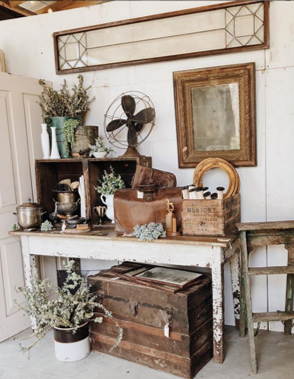 Patine pine. Love the white hutch and how it's decorated with the greenery cascading down one side. And the lovely leather chair with it.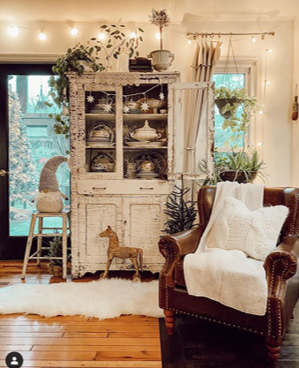 Velveteen and grace. I love the simplicity of the desk and all the antique goodness used to stage it. I need to see if i have any crocks that small laying around, now that i think about it 🙂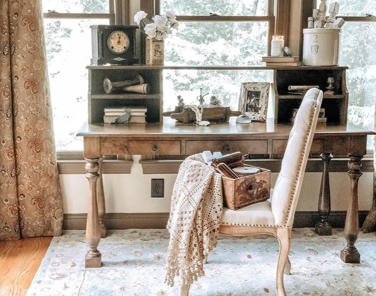 House on Winchester. This one stopped me dead in my tracks the first time i saw it. The chandies. The shutters used as a headboard. The big print on the wall. The rug tying it all together. Just gorgeous.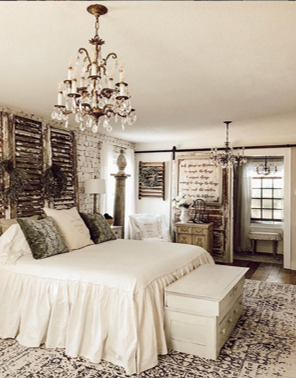 At home with Jessi Dee. I've more recently happily stumbled onto this one. I love the white chippiness of the table paired with all the vintage wood molds. And the other wood goodies and the dark bowls on the bottom shelf. Such a cute vignetter.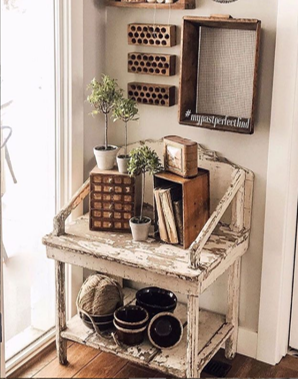 Big family little farmhouse. The lockers grab me immediately. I may be slightly obsessed with locker cabinets at this point. I also love the way they have it styled. And the home pillow in the wire basket is cool, too!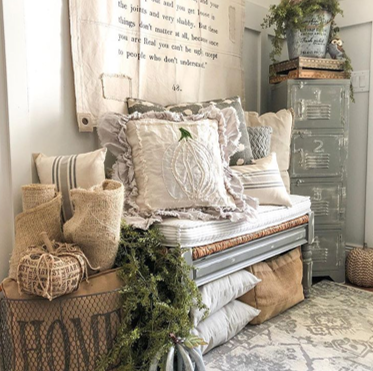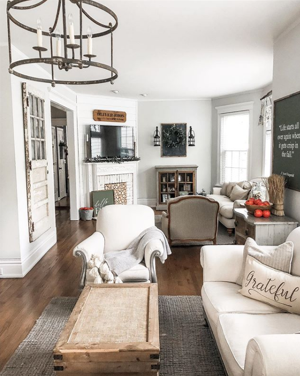 Nuckingfutsjen. Her name alone makes me smile! But getting past that…i love the door hanging on the wall! The chest for the coffee table. The big print on the wall with the black background and white lettering.
Aren't they beautiful? I hope you see the gorgeousness in these like I do! Is this your style, too? Feel free to follow any and all of them! They have no idea that I am writing this post, but their Instagram posts just give me all the feels and I just want to share with you the ones that make me drool!! And if you aren't already following them, you should be! Aren't they amazeballs????