Here a just a few Mother's Day crafts that I have made lately.
When I search for Mother's Day craft ideas or Mother's Day DIY, I don't really find a whole lot.  At least not a lot that inspires me.
Scrap Lumber with Furniture Transfer and Stencil
This one came about because I had spilled pink paint and didn't want to waste it.
I just painted the scrap wood with the pink paint, stenciled "mom" on it and added the furniture transfers and sealed it. Easy peasy. Nothing too fancy. I don't love it, lol, but it will hopefully maybe inspire you to do something similar, but better J.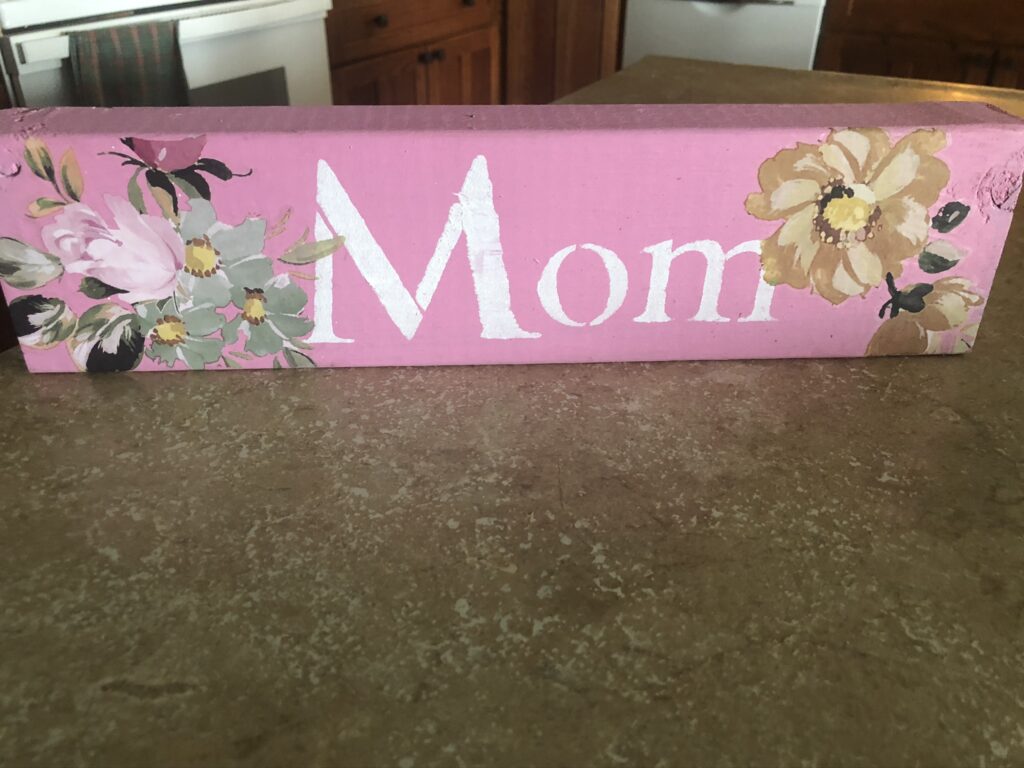 Grandma's Are Moms with Lots of Frosting
This one was better in my head, lol. It turned out ok, just not quite as planned, as most of my projects do!
For this one, I just found this board in my scrap pile.  It was already spray painted a pale color, but I didn't love it, so last minute, I decided to repaint it and went with dried sage.
The next thing I did was Stencil "Grandma" down the side. And then stenciled the saying. I have no idea where this stencil came from. It was all one stencil, two lines. I ended up cutting it to work with my project. Unfortunately, it is a really cheap, thin mylar. I may not ever use it again. I love the font, but the quality is lacking. All stencils are not created equal.
The furniture transfer came next.  If you have been with me for a while, you have seen me use quite a few of these.  Actually, this one I have used several times.  And by that, I mean that I have used parts of it for several projects.  I am not a hoarder, lol, but I do try to keep leftovers for small projects like these. I used this particular transfer on a dresser, this project, and the project above, and I think another small project somewhere along the way!
And after it was all dry I just sprayed it with sealer.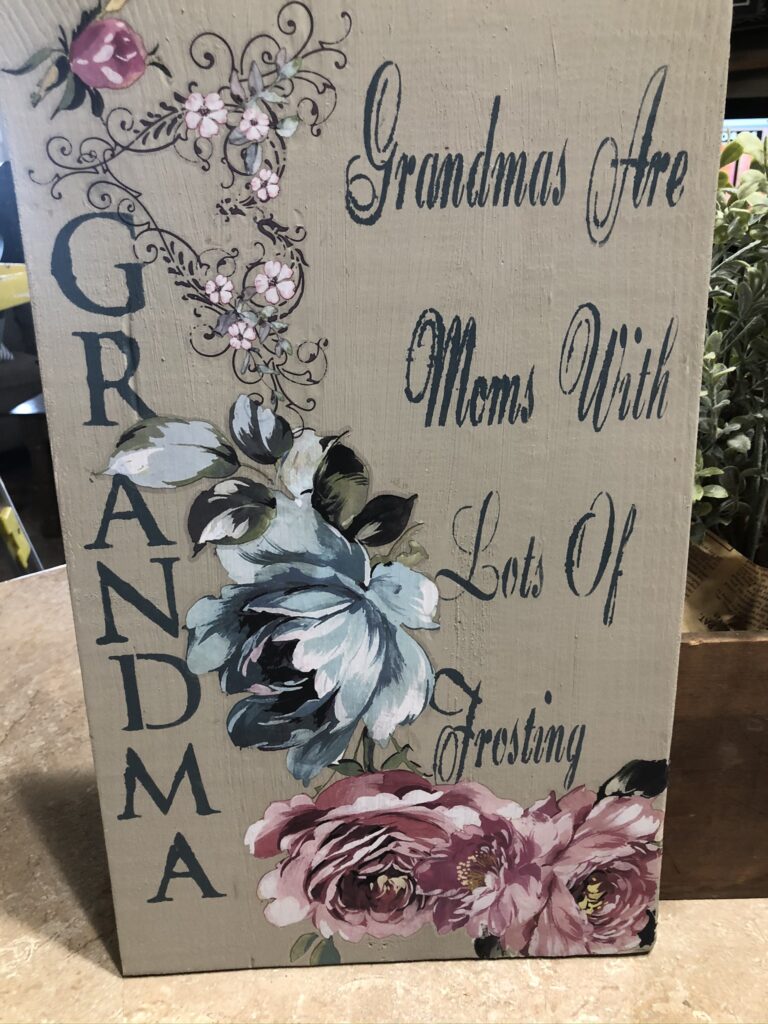 "MOM" Photo Holder
For this project, I wanted to use my little wooden tags to spell out mom, which meant I had to find a board wide enough to accommodate that.  Nothing in my scrap pile was speaking to me, so I went to grab the saw, but apparently, hubby had snatched it from me.  He does that, lol.  I don't think he likes me to use it!  He always says he would like me to have all my fingers at the end of the day!
So at 5 minutes until I was to go live with this project, I am looking for the saw. Thank goodness I caught him outside and asked where the saw was! He had it in the shop but was more than happy to come make that one cut for me!
I sanded the edges and got started painting the outside edge green. Then I painted the wood tags white and mod podged on the scrapbook paper.
I used E6000 glue to glue on the letters, tags, and clothespins and done.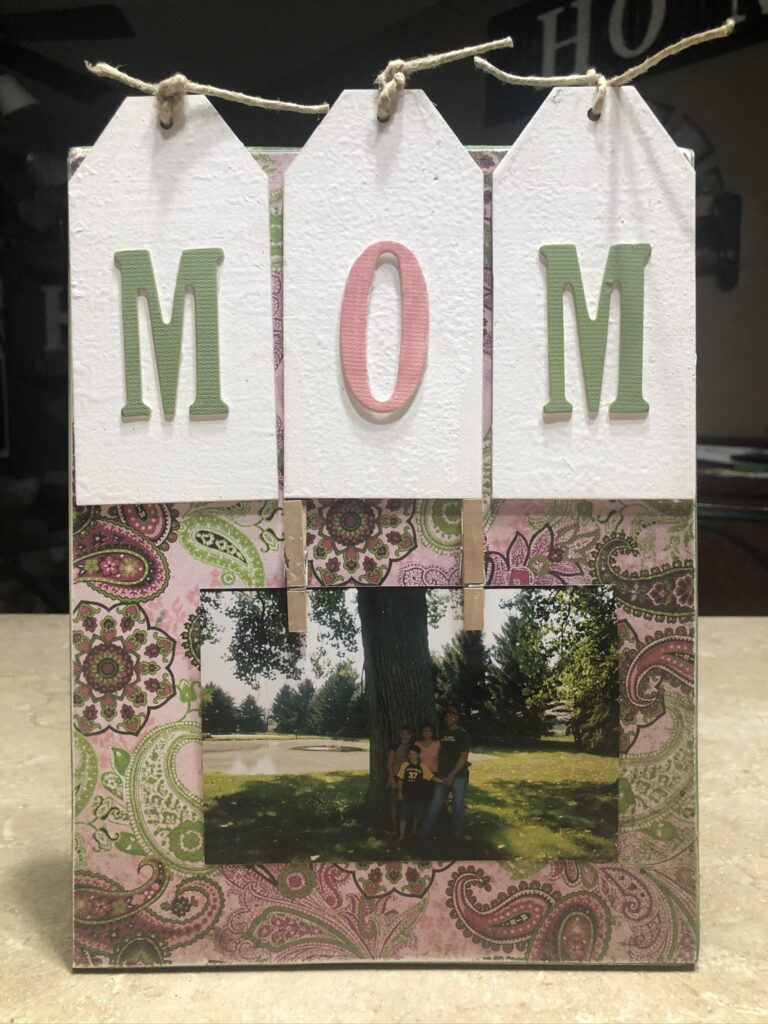 Another Photo Holder from the Leftovers
For this one, I still had more leftover paint so I used it on this piece of wood.  I had these cut to make signs out of. I painted the wood pink, mod podged on the leftover scrapbook paper from the last project and glued on the clothespin and flowers. These projects could easily be modified and/or used for other themes.  You could use different colors, different papers, etc.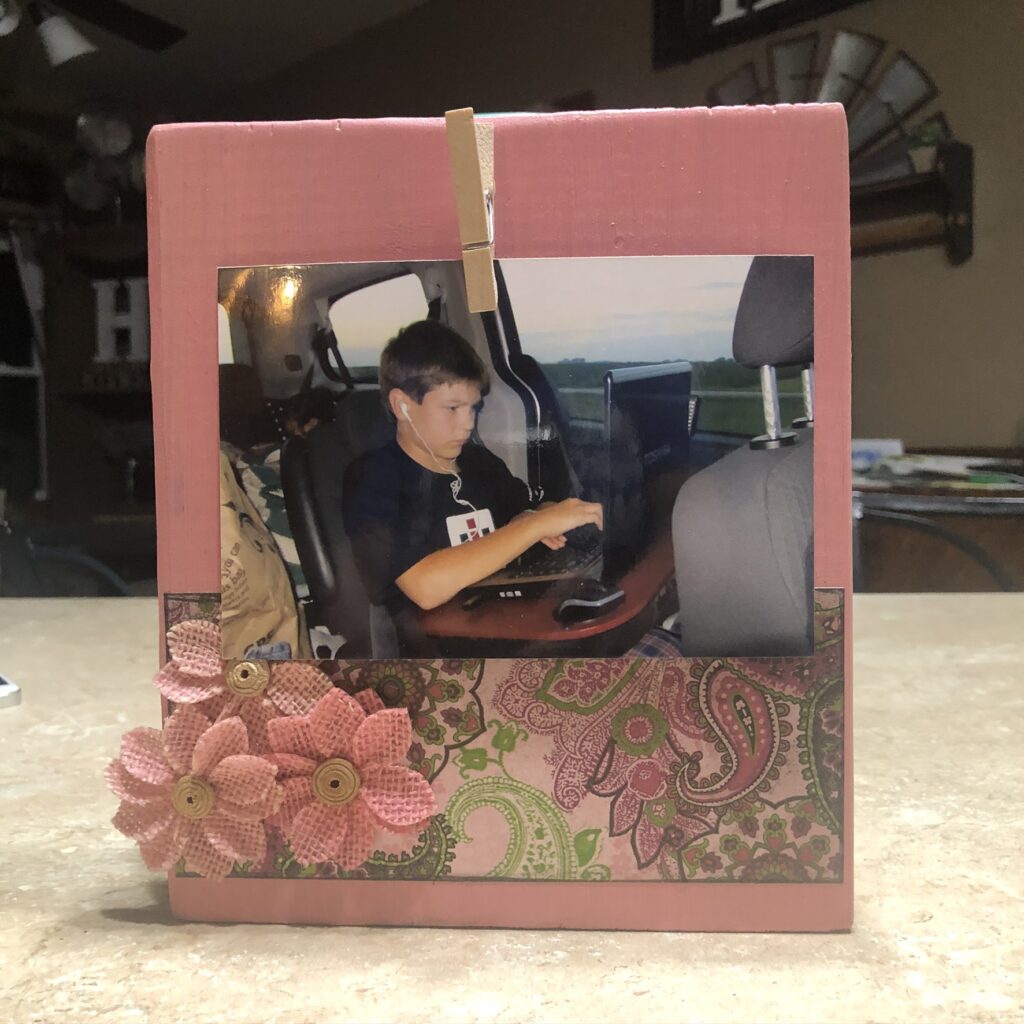 Your options are only limited by your imagination.